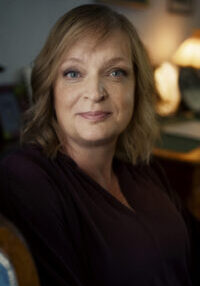 Rights sold
Denmark
Finland
Germany
Norway
Sweden
Eleonore Holmgren works as a communicator and lives in Uppsala with her family. She's always found herself drawn to good stories and the joy of writing. She would spend hours at the library as soon as she learned how to read and writing essays were the best thing in the world. By coincidence she turned writing into something serious when she got her first job at 15 years of age as a freelance journalist at the local newspaper. That led her on the path to becoming a communicator.
The urge to write has always been there but grew stronger in recent years so some years ago Eleonore quite her job to focus on writing. In her head she's always collected seeds that might one day become a complete story. She loves sitting back and just watching other people's traits and behaviors. She has no shame when listening in on other people's conversations and tries to get clues from what might be hidden between the lines. There is always something interesting to be found if you dig deep enough. One of these seeds grew into her first novel.
Her debut The Last Summer is a warm depiction of an elderly woman making sure her own final wish comes true by deciding to spend one last summer in her country house by herself. The challenges that face her when she arrives is different from what she thought, and an unexpected friendship blossoms instead and make that final summer very special.
Eleonore found inspiration for the novel in people and environments in her surroundings and for her the fun part of writing is when the characters take over and start pulling away in directions she didn't see coming in the beginning. They show new sides and the story writes itself. When she writes a story it would be one that she would like to read herself and the goal is to find a certain feeling: a touching story with nerve enough to create the feeling of not wanting to put the book down.
Author's Instagram: 
Bibliography
2022 - Britta's Inheritance (Brittas arv), fiction
2021- The Last Summer (Sista sommaren), fiction
Author Photo: Gabriel Liljevall
Contact us for photo rights