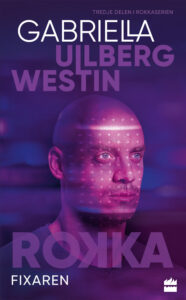 Rights sold
Bulgaria: ERA Publishers
Denmark: HarperCollins Nordic
Finland: HarperCollins Nordic
Germany: HarperCollins Germany
Norway: HarperCollins Nordic
Sweden: HarperCollins Nordic
The Czech Republic: Computer Media
In The Fixer, we follow, as usual, gruff detective sergeant Johan Rock and his quieter but highly competent female colleague, Janna Weissmann, from the Police Department of Hudiksvall.
The Fixer is a crime novel based on the theme  of "social engineering" - that is, how social skills can be used to manipulate others into giving up sensitive information or committing criminal acts. This is a form of criminality against which it is extremely hard to protect oneself, since the crime, by its very nature, involves a person failing to detect that he or she is being manipulated.
This is the third part in the Rokka series.
350 pages
Reviews from previous books in the series
"I absolutely devour the book! It has everything a really good crime novel should have plus an extra spice with passion that blend perfectly into the otherwise dark story. Treachery, lies and revenge and Johan Rokka sailing up as one of my favorite characters. 4,5 out of 5! "
Anna's deckartips
"The Runner" is a well-written crime novel with a good drive and coherent story.
Well-written and exciting with a stylish mix of both international and local.
Rating: 4 "
Lotten bokblogg
"One of the best crime novels to read this summer "
Svenska Deckarfestivalen
http://www.metro.se/noje/har-ar-sommarens-basta-lasning/Hdzpfo!0oT@rNnhCl0Dx6arQ48TA/
"The book is easy to read, has a good pace and is so exciting, it's easy to forget about everything and just continue to read, even though it is passed night time, to find out how it all will end."
Boklysten