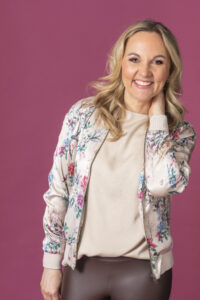 Rights sold
Denmark
Finland
Germany
Latvia
Norway
Sweden
Jenny Fagerlund writes warm, romantic and realistic relationship novels with depth. All emotions are covered in her books. Her whole set of stand-alone novels in the Seasonal Series has been well received in both Sweden and abroad.
The ability to write in page-turner style without losing depth and reflection is a gift that Jenny Fagerlund has. Her fine descriptions of everyday life come in the small details, the sudden moves, the shifts in mood, all the little things that we do everyday without thinking of them. Her writing is so vibrant and real you almost forget you are reading. And daring to let the characters show themselves in both good and bad, gives the writing that human touch. Nobody's perfect. But we try.
Stories has had a very strong impact on Jenny Fagerlund since she was a small child. A never ending longing to enter the universe of others, to explore other continents and to enter the imaginary worlds the stories offer.
Jenny Fagerlund has looked upon writing as something natural she will always do, so she is today an educated journalist. Mother of four small children living in Stockholm. One of her big interests besides writing and reading is horses and she is that typical horsegirl, with guts, strength, feelings and clearsight.
Jenny Fagerlunds says;
"I want the reader to get a moment of relaxation, to laugh, feel some butterflies in the stomach, maybe cry a dash and leave the book with a warm feeling when finished. I hope that my books are readily accessible, and leaves with the feeling that it has been a lovely time in someone else's world."
Bibliography
2023 As Life Goes By (Medan livet pågår), novel
2022 The Last Advent Calendar (Den sista adventskalendern), novel
2022  The Feel-Good Writing Guide, (Skriv Feelgood), non-fiction
2021 The Beginning of Something New (Början på något nytt), novel
2020 My Secret Life (Mitt hemliga liv), novel
2019 One Step at a time (Ett litet steg på vägen), novel
2018 24 Good Deeds (24 goda gärningar), novel
2018 Greetings from Båstad (Med hälsning från Båstad), novel
2016 Dream's Road (Drömstigen), novel
Author's website:
Author's social media:
instagram Jenny_fagerlund 
Contact us for photo rights