100 Dates
Dr Angela Ahola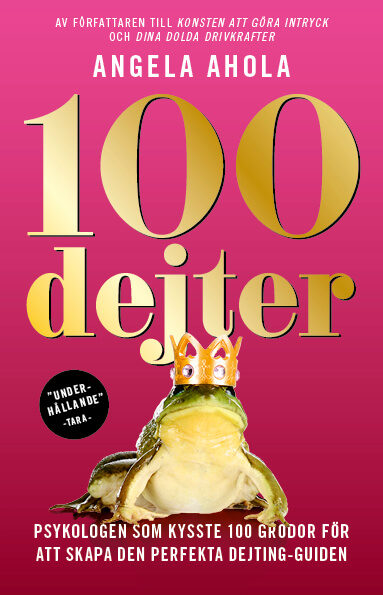 Rights sold
Finland: Minerva Kustannus
Serbia: Blum
Sweden: Sapiens
Taiwan: Ecus
UK (WER): Bluebird, Pan  Macmillan
The psychologist who kissed 100 frogs in order to create the perfect dating guide
After throwing herself blindly into the dating jungle, Doctor of Psychology Angela Ahola has cracked the code.
Countless interviews with singles, 10,000 matches on dating apps, and over 100 personal dates – all backed up by the latest scientific research – have laid the groundwork to this invaluable handbook filled with pragmatic tips.
100 DATES is your new travel guide to the world of dating, teaching you its hidden signals and rules. Have you found "The One"? How do you stand out, create chemistry, and avoid getting friendzoned? Racy photos – how do you manage that? Which texts keep that fire alive, and how should you time your responses? How soon should you meet up again so that everything doesn't run out in the sand?
100 DATES reveals the secrets to optimizing your attractiveness, both online and IRL. Learn which personalities clash and which click, how alike should you be, and how to spot signals that your date will never commit (even if it seems they will at first). Daters come in three varieties, and one ought to be avoided – learn the dangers of choosing the wrong partner. And why we even look for a someone in the first place?
This book consists of four parts: Pre-Date, Mid-Date, Post-Date, and Beyond-Date; Beyond-Date provides you with the most reliable, useful, and scientifically up-to-date relationship advice currently available, revealing how you can create a wonderful partnership with that special someone.
Take control of your game.
❤️
259 pages
Reviews: 
"Recognition, amusement and lots of practical tips!"
- Anneli Hammarsten, entrepreneur
"This book has changed my idea of who I am and who I'd like to date, and completely altered my expectations regarding relationships."– Johnathan Daily, artist and translator
"If only I'd had this book before I started online dating! The familiar ironies, and tons of great tips and advice. It got me thinking about my own behavior and the choices I've made!" - Jessica C, data technician
"100 Dates is both amusing, spot on and it provides you with new insights about yourself and others. You're learning new things while laughing with identification. And in the middle of all the red flags to look out for the book also shows the possibilities we need when we doubt if true love is really out there." - Cecilia Höjer, Principal
"Pure edutainment! I put together six pages of notes from the book! Highly recommend the book to all single people of all age, also to people interested in the psychology of human behavior." - Jenny Karlsson, language teacher