100 Dates - Swipe Your Way to IRL!
Dr Angela Ahola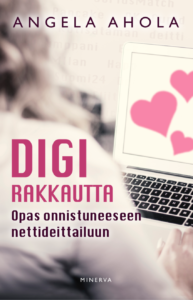 Rights sold
Finland: Minerva Kustannus
After throwing herself blindly into the dating jungle, Dr. Angela Ahola has cracked the code!
After interviewing countless singles, matching over 10,000 people on dating apps, and personally going out on over 100 genuine dates, this leading psychologist has created an invaluable handbook filled with pragmatic tips for everyone dating in today's internet era.
And it's all backed up by the latest scientific research! The internet has changed dating culture in bewildering ways, but with the right knowledge and tools you can enjoy its full potential.
100 Dates – Swipe Your Way to IRL! is your new travel guide to the world of dating, teaching you its hidden signals and rules, and clearing away confusion and distraction.
You'll get authentic advice about choosing or even staging your photos, how to tailor your bio so it fits your goals, how to handle matches and first dates, and even how to lay the foundation to positive future relationships.
(And along with the many great tips that will change your life, no worries – you'll also learn who and what to avoid!)
Take control of your game.
❤️
259 pages