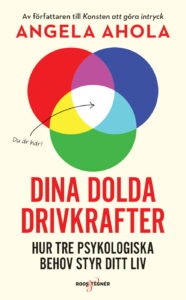 Rights sold
Arabic: Jarir
Australia: Brio Books
China: Post & Telecom Press
Korea: Chungrim Publishing
Lithuania: Obuolys
Sweden: Roos & Tegnér
New Zeeland: Brio Books
Russia: Alpina
Taiwan: Wave Press
Ukraine: Alpina
What gives power its teeth? Why do we cheat, or speed-bump our lives with bad relationships? And why are we all hooked on our phones?
Three primal human forces have propelled humankind into the space age, but are also wreaking havoc in our personal, social, and professional lives. Dr. Angela Ahola has written an astounding new guidebook that teaches you how to recognize, evaluate, and even harness Your Hidden Motives.
Backed up by extensive scientific research, Your Hidden Motives will turn your understanding of yourself, your relationships, and the persuasive psychological forces that society is grappling with on its head – opening not only your eyes, but possibly even your hands and heart. You will learn all about why we want what we want, whether that will help make us happy or not, and which needs we may be neglecting. And then Angela equips you with a pragmatic new toolkit, setting your life-improvement goals within reach!
Millions of years of evolution can't just be shut off overnight, but we can learn to understand the secretive mechanics within ourselves very quickly with Your Hidden Motives. Follow along as Dr. Ahola cuts directly to the very heart of the human condition, and then makes you captain of your own ship.
Angela Ahola has narrowed it down to three motives that she goes through in detail:
Motive 1 - Status & Power
Motive 2 - Relationships
Motive 3 - Information and Knowledge
224 pages
Reviews:
"A book that everyone ought to read. Easy to understand and incredibly interesting."
- Leonardo Franconeri
"The first book I've read in a long time that actually helped me in my everyday life. Great practical value. A book I needed to read."
- William Rupush
"I studied every line in the book. It brought out sides of me that I didn't know I had. Concrete tools. For you, to aid your self-advancement."
- Malin Granat, CEO Eventolution
"Countless 'Aha!' moments!"
- Noel Nevanti
"Spot on. When I need inspiration, I turn on the audiobook and take a walk."
- Mark Siegbahn, Beteendedesign i skolan
"I came to realize that I ought to leave a bad marriage after 37 years and start living again. I really needed to hear you words of wisdom."
- A. Andersson
"This is real treasure. A top-three book of a lifetime. A more information-rich book about life is hard to find. It explains and relates, telling us why – as human beings – we do, think, act, and feel the way we do. This little treasure is a masterpiece which, in an impressive and educational way, gives you answers to the big questions in life. Everyone will find something to gain from this. This is popular science at its best – the author is personal, funny, and incredibly well-informed throughout the entire book."
- Hans Mebius, Head Coach/Business Developer
Promotion videos:
Check out this trailer with reviews, promo video and video greeting from the author about the book: