In the Shade of the Fig Tree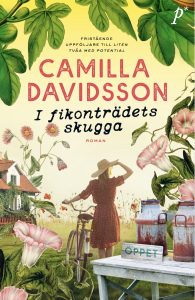 Rights sold
Denmark: Palatium books
Finland: Into Kustannus
Norway: Aschehoug
Sweden: Printz Publishing
Nominations and Awards
Winner of best E-book of the year at the Nextory Awards 2020
Shortlisted for Best Audiobook in the Novel Category at the Storytel Awards 2020
Susanne has taken care about her family for all the years leading up to this point – both her daughters have moved out and her, now ex-husband, has just left her for a younger woman. She is left with no choice but to start over completely and begin a new life. First of all, she needs to find a new place to live. And a job. And someplace to store all her belongings from her old life.
In a tiny village on Gotland, the idyllic island in south Sweden, there is an old milk shop, a heritage that Susanne meant to sell, but that will do as storage for now for all the furniture and things. She will go through it all in peace and quiet and regain some strengths after the divorce. One day she accidentally sells an item to a tourist who stops by her yard and ask how much she wants for it. It was once a gift from her husband. Following that is a chain of events that begins when a very handsome, but grumpy, neighbor shows up soon thereafter wanting to buy a book. Suddenly Susanne's life sort of invites her to a new beginning. Will she dare to accept the invitation?
In the shade of the fig tree is the stand-alone continuation to the successful book Small Apartment With Potential. It's a warm and loving depiction about getting up when you have fallen and about the courage to stand up for yourself and what you believe in.
290 Pages
Reviews
"Camilla Davidsson has sold over 150 000 copies total so far of her books. She might even be considered something of an expert on comfort? … And when I finish the book – how do I feel? Well, I feel good." OP Magazine
"Fantastic, entertaining and charming – book of the month in September" – Jenniesboklista, book blog
"What a lovely pageturner!" – Bokigasteboken, book blog
"Camilla Davidsson has done it once again – a true Feelgood pearl" – Bettansboktips
"A warm and loving novel – I warmly recommend it!" – Agneta Norrgård, reviewer TV
"It's hard to resist this warm and cozy story." – Villivonkansbooks, book blog
"Thank you for a delightful story about courage, new love and flea market treasures." – Kustboktanten
Reviews and reader's comments on the previous books in the series
"Even though this is a feel-good novel there is also a seriousness to the story. Burnout syndrome has become one of our largest endemic diseases in todays society and an increasing number of people suffer from it and have to change their lifestyle... not only a cozy book but also a book that makes you think. Camilla Davidsson has certainly become one of my favorite authors and I can't wait for her next one!" Boklysten, book blog
"I just finished reading 'Small Apartment with Potential'. I'm empty from emotions. The whole book was an "Aha!" moment. But for me it didn't end with a silly exhaustion, things like that doesn't happen to people like me, instead it was an illness called laziness. And then I had a stroke. And was completely burned out. Here I am 5 years later wondering how the f*** I could have been so stupid. Plese tell me you will continue on with a follow up on this fantastic book. I just want to crawl up into Arvid's warm embrace and dream myself away and be Sofia for just a little while longer. Thank you for a fantastic book. I will buy all of your other books as well. I can't explain what your book has done to be because I hardly recognize myself any longer. Something happened inside of me, thank you once again. " – Jessica
"This is a real feel-good diamond with a serious tone. Small Apartment With Potential is one of those books you just can't resist to love. It contains all right elements. The main character has just enough issues for me to care for her and being curious to find out more. The environmental descriptions are just amazing. Camilla Davidsson paints them so vividly I want to move both to Dalarna and to live in a small one-bed apartment in Stockholm (perhaps not while it's being renovated). The story is also both interesting and engaging.
I recommend the book to everyone I'm talking to at the moment. You just can't resist it! 4,5 /5 " Boktokig, book blog
"Hard to let go of, you really want to know how things will turn out for Sofia. A well written story that you just want more of" - Bok.malen
"Just finished the book, I ended up reading it in one sitting. I couldn't stop. LOVE IT! I think this is the best book so far by Camilla Davidsson. I almost fell in love with Arvid. I already look forward to the next one." - Jeanette
"One of the best feel-good books I've read in a long time. It was funny and really good. The environmental descriptions where very well executed, especially the parts around Dalarna, made me longing for a visit. The feelings flying around in the air around Sofia and Arvid where so evident that you waited with anticipation for one of them to take the first step. A gripping feel-good book that I stretch read. 5/5" – Systrarnaboktokiga, book blog
"I just devoured your book. What a read! I was entertained and emotionally touched. This book will be a success, believe me. It feels so honest and the story has a great flow that makes you not want to stop reading. There are several moving things in the story that really has an affect."- Lotta
"Wonderful! Lucky all of you who hasn't read it yet." – Maria
"This year's favorite – thank you a fantastic reading experience" – Maria A
"Camilla Davidsson is great at capturing the main character's feelings in a way that helps me relate to them, they act reasonably without it being to obvious... Camilla Davidsson also adds a deeper dimension to the story by involving our modern times big illness: exhaustion/ burned out syndrome... She writes about the disease in a relatable, even to those close to the person who suffers,  and in a honest way... Thought provoking... The result is romantic feel good at its best. 4/5 " - Johannas Deckarhörna