She Walks Through the Frame and Out of the Picture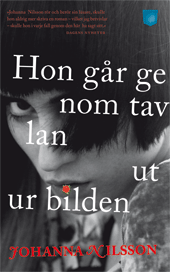 Rights sold
Denmark: Alvilda
Finland: Otava
Germany: Carl Hanser/dtv
The Netherlands: De Geus
Sweden: Wahlström & Widstrand, Pocketförlaget
Johanna Nilsson's first novel, She goes through the Frame and out of the Picture, was published in 1996. This novel uses the author's own adolescence as its subject. Hanna is an outsider and endures bullying, but still has the courage to be herself, though she must pay a high price for her courage. The novel was received with great interest and Johanna Nilsson was invited to give readings at high schools and libraries throughout Sweden. She goes through the Frame and out of the Picture has been translated to German,Danish, Finnish and Dutch and has been used as a course book in schools and colleges.
Hanna and Karin are best friends, and they've played together building forts all summer long, but everything changes when they return to school in the fall. Karin wants to be one of the tough girls – and Hanna's social world suddenly becomes empty. During recess, Hanna hides in order to escape being teased or beaten up, and also so that her siblings do not see the loneliness which surrounds her. Her eleventh birthday comes, but no one sings Happy Birthday. She turns twelve and has no party, since who would want to come? A few years later, she finds herself in a mental hospital, standing by the window and yearning for the world outside. That world has frost-covered fields, longing waters, deep dark forests, people, closeness, skin. She wonders what it would like to be kissed. She wants to open the window and let in the fresh air; she has trouble breathing, her soul has asthma, her madness grows. She's still young, and there's no way she can stay here.
296 pages
Reviews
"A harrowing description of rawness, group violence and loneliness runs through all the events, written in a language that makes you want to read more."
Göteborgs-Posten
"A perturbing double portrait of Hanna, a young girl. The author is so young, 23, and the experiences she describes are so painful that you can't understand how she's seen through them and put distance between them and herself. …Johanna Nilsson touches and moves her readers, and if she never writes another novel, which I strongly doubt, she still would have worked her experiences into a major literary achievement."
Bert Wilson, Dagens Nyheter
"Her language abilities show an unusually rich artistic temperament which has already been developed and been honed into an effective and sure instrument."
Upsala Nya Tidning
"Never before have I read a so believable depiction of the world of a little girl."
Arbetarbladet
"A gifted debut…an important book on an important subject."
Aftonbladet