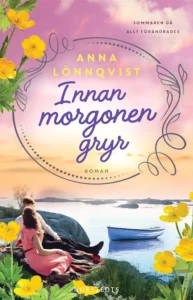 Rights sold
Denmark: Palatium
Sweden: Norstedts
Norway: Cappelen Damm
Before the Dawn is a gripping love story about a summer when everything changed. What we are willing to sacrifice for our family and about impossible, passionate love. Anna Lönnqvist has once again written a warm novel about finding oneself through someone else, filled with romance and longing.
Cape Cod 1965: The Swedish descendant Audrey decides to escape the expectations of her family, and the man she is expected to marry, and takes a job at a small children's colony in the Stockholm archipelago.
Stockholm 2022: Céline Sarri struggles to find her direction in life. When she finds out that her grandmother, whom she has never met, is alive and wants contact, her life changes. Now she can get answers to the questions about her father that her mother never wanted to talk about. But Céline's search for her origins tears up old wounds in everyone involved. Tensions and buried family secrets from long ago send waves of waves all the way into the present. But can it be necessary to deal with the past once and for all? Maybe everything's actually not too late?
452 pages
Reviews:
"High-density pleasure reading... Fine descriptions of silence, conventions and how love can make us make strange decisions."– M-magasin
"Lönnqvist knows how to build a feel-good story and even though the set-up of family history for several generations is common in this genre, she manages to make her story interesting and her own. The trip to beautiful Cape Cod also perks up."– Göteborgs-Posten
"Anna's best so far! A lovely feel-good that really has everything I want it to have... I also like the slightly deeper tone found in this one which takes the story up a notch. Only one problem with this book... It ended too fast." – Bettan bokprataren
"A beautiful feel-good novel with great emotions, with everything from passionate love to deep despair. The novel is about family secrets and decisions that will affect several generations. This is a warm, poignant and very beautiful novel that contains love, friendship, betrayal, secrets, family ties and searching for one's origins."– Kulturladyn
"Wow, what an amazing story! It really has it all, both warmth and depth. I love Anna's way of writing and look forward to reading many more books by her! I was truly captivated by this story and I found myself in a book hangover when it was finished."– Bokmalen81
"What a feelgood gem! I was totally taken by this love story, which is really touching... It's almost like I wish I had the book unread, so I could re-read it again."– Sofias bokhylla
"A tender story about love, passion and the search for origin… The environment feels alive, and the characters are engaging. Anna Lönnqvist writes quickly and casually with a nice rhythm in the language… A nice book gem with engaging plot and characters that touch. "
BTJ, library services