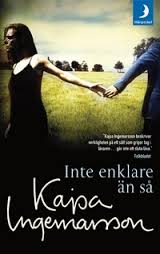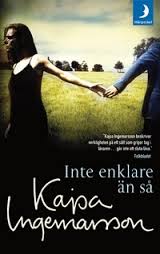 Rights sold
Germany: DTV
Sweden: Forum (hardcover), Månpocket (paperback), Bonnier Audio (audio book)
How can that which once was so simple and natural suddenly become so hard?
It's been seven years since Annika met Tom at a party and right away that 'and' found its way between their names: Tommy and Annika. Like Romeo and Juliet, or the King and Silvia. A year later and they were married, and soon thereafter also the parents to a daughter named Andrea and a son named Mikael.
They struggle to piece their lives together. The two kids take up most of their time and energy. The first, intense feeling of love is long gone and everyday life has long since taken over. But they both agree, the kids are not being got caught in the middle. The result is that Annika constantly suffers from a guilty conscious since there never seems to be enough time for everything. Even though she and Tom share all the responsibilities. He is a good man, who believes in gender equality. So why is she interested in Rickard, the new guy at work?
Rickard gives Annika the sense that she is seen, and through his gaze she also begins to see herself. She is reminded of who she was before she met Tom, before the kids. He fills her with energy and happiness, and Annika is flattered that someone pays attention to her. But the spark between them increases and it doesn't take long before they fall in love. It frightens Annika; she had almost forgotten what it felt like to be attracted to another man. Or to her own man, for that matter.
After a kiss during an office party, Annika decides to tell Tom about her infatuation. He becomes furious, hurt, and withdraws. In order to patch things up they go off for a weekend to a little country hotel. It turns out to be a total failure and the gap between them widens. When, by mistake a few months later, Tom learns that Annika has still not broken off her relationship with Rickard, everything comes to a head. He forces her to leave their home and the kids, and gives her one week to make up her mind. But what is it that she really wants?
Kajsa Ingemarsson tells a sensitive, accurate story about the conditions of love in everyday life which affects most of us. Of how fragile a seemingly structured and stable existence really is. And about how painful it can be when what feels natural is suddenly questioned and examined. This is a story about love and loyalty as well as a humorous observation of modern family life. 
252 pages
Reviews
"Kajsa Ingemarsson succeeds in making an ordinary story exciting and makes it so you want to continue on to the next chapter immediately."
Östran
"... a modern depiction of a marriage that feels very true to life."
Monika Ahlberg, BTJ Böcker & AV-Media
"Kajsa Ingemarsson has succeeded in making the reader want to keep turning page after page - it is very exciting even though it deals with normal, everyday life."
Vi Föräldrar
"I finished reading it in one night. (You just have to find out what happens.)"
Elle
"Novels in the category of light reading set in the backdrop of everyday activities are a surprisingly neglected genre in Swedish literature… Kajsa Ingemarsson takes good care of this field. Her language is distinct and she has an eye for the details and hardships of everyday life."
Helsingborgs Dagblad
"Kajsa Ingemarsson describes reality in a way that grabs hold of the reader… you just can't stop reading."
Folkbladet
"…contains both humorous and serious sides… well worth reading."
Tranås-Posten
"Ingemarsson writes simply and with feeling. The story is very believable… Ingemarsson presents a drama that you can get very involved in… Simple as That provides excellent proof that you can just as easily write about whining kids and crumbs under the table as glitter, status and glamour without it becoming the least bit boring."
Nerikes Allehanda
"…very recognizable… in an appropriate combination of humour and seriousness, Ingemarsson describes love, loyalty and the search for… well, something different, something new."
Skaraborgs Allehanda
"Kajsa Ingemarsson knows the genre and she can make it flow. She is extremely good at irony and is able to concisely formulate a clear point of view."
Sydsvenska Dagbladet
"A well written book, easy to read, entertaining and thought provoking."
Allas Veckotidning
"Kajsa Ingemarsson tells a story about the conditions of love in everyday life that affects most of us. And of how fragile our existence really is. And she does it in a entertaining way with many observations that are right on target; well written and entertaining."
Karlskoga Tidning
"An easily read, entertaining and identifiable book on how difficult it can be to keep love alive in the midst of everyday life. A lot of humour in the middle of all the serious ideas."
Skaraborgsbygden