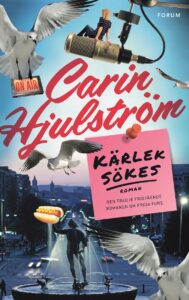 Rights sold
Sweden: Forum
The years have passed, Frida is now an experienced radio presenter and divorced mother of two who is looking for love after 40. Searching for Love by Carin Hjulström is a gory, funny and warm feelgood novel about daring to take a leap. The radio presenter Frida Fors is a professional in relationships in the program "Late Calls" where she talks to listeners from all over the country. But when the youngest child leaves home in Gothenburg, the emptiness in the townhouse becomes indescribable. Encouraged by friends and colleagues, she reluctantly sets out in search of the love she has long given up hope of. As confident as she feels at work, as edge-bound she feels private. She tries with the tavern, but without success. The web seems to be the new meeting place. In the online dating swamp, Frida meets longing, offended, lost and strange men, one more tattered than the other. There will be many cups of coffee in the city's cafes, walks in the Botanical and rigid dinners at Brasserie Lipp. Pleasant conversations, hopes and monumental disappointments. Frida experiences both stormy loves and costly defeats. She is simply one of those who never finds the right one…
400 pages
Reviews:
"Her new chick lit novel is pure Love Actually. Do you remember the charming British romantic comedy where it rained love couple? Carin Hjulström sprinkles in the same way with parallel tracks with supporting characters ... What makes Love sought for such a nice reading armchair buddy is both the fluent language and the fun plot. As a reader following Frida is like sitting safely and unseen next to a single friend at the dating computer: completely irresistible, even if you have to be careful not to become cynical about the coup ... If Carin Hjulström continues like this If Martina Haag can safely retire, then Sweden's new chick lit queen will live in Gothenburg. "
Göteborgs-Posten
"Beautiful and clear-sighted about loneliness, and about how difficult it is to find a new love."
Today's news
"Adorable and fun. I laugh out loud. To a few pages later pick out the pillow of shame when the descriptions of the adult dates become too embarrassing. But most of all I am impressed by Carin Hjulström's ability to mix light touch with just the right amount of seriousness." (Score 4 out of 5)
Tara
"Easy to read and fun but also emotional."
Blekinge Läns Tidning
"As usual when it comes to Carin Hjulström, the story is fluently told, easy to read and has drive."
Norköpings Tidningar
"After twenty years, Frida Fors is now returning as a middle-aged woman in the search for love ... Her career has finally taken off, the uncertainty and anxiety that the reader recognizes from Not on the Map (2009) and Finding Lost (2010) has been replaced by a permanent job as an experienced radio presenter with out-of-town children and terraced houses with a blanket. Like so many others, she has ventured into the dating jungle on the internet, which turns out to be more difficult than she imagined. with the author's well-known accuracy around everyday details. "
BTJ