The Happy Ever After Writing Club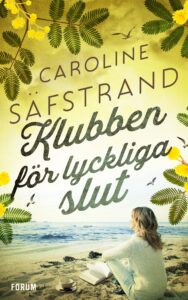 Rights sold
Denmark: Alpha
Finland: Karisto
Sweden: Forum
Norway: Anemone
Nominations & Awards: 
One out of four shortlisted finalists for the prize Feelgood of the Year, at the Feelgood festival 2021
Three women, who all find themselves at a crossroads in their lives, receive a flyer on their windshield. It's an invitation from writing coach Sam and his club "Happy Ever After Writing Club."  None of them plan to attend, yet they all end up going.
Cecilia who recently lost her husband at an age much too young and isn't sure how to move on. Lisbeth who longs for something beyond her predictable marriage. Ivy who is sick and tired of worrying and wishing she was more like everyone else. Even the writing coach Sam has a few things he needs to work through.
One day a week they gather at the writing club that will come to have a massive impact on all of them. With the pen in hand, secrets are revealed, and they learn to truly live, love and laugh again. They have eight weeks to write their own happy ending. Will they succeed?
A book about people becoming lost in life and how to find ways - with the help of new friends, the writing coach Sam and through expressing their feelings and dreams, finding a way back. Or rather: finding new paths.
300 pages
Reviews:
"You recognize Caroline Säfstrand's style of writing; her specialty is how she brings people together that all come with different baggage and she lets the characters evolve in the company of each other."  - Göteborgsposten, Magazine
Voted top three Feelgood novels of 2021 – Göteborgsposten, Magazine
"The Happily Ever After Writing Club is a wonderful novel with a hint of minor tones and feelgood warmth. The story is about finding your way back to love, laughter and your life's spark after getting lost in life. It's hard to beat Säfstrand's sense for describing peoples' inner desire and power for change." – BTJ, Library Service No. 3, 2021
"The Happily Ever After Writing Club is the sixth novel by Caroline Säfstrand and it is just one of those hopeful books that I love in order to escape everyday life for a bit. It's warm, cinematic and written with such depth and serious tones that it leaves a strong imprint." - Agneta Norrgård, P4 Radio
"My tea is getting cold while I'm completely taken away by this reading experience… I got goosebumps, bursting with joy and I'm ugly crying. I want to tell everyone I meet to read it and I'm also crying over the fact that I've finished reading it. The language and the story finds a place to grow within me and for every page I turn the reading experience intensifies… it brings me hope. And it makes me believe in happiness at the end of the rainbow if I dare to follow my heart." – carolinesbokhylla, book blog
"This is a really good feelgood with depth. A warm and lovely story about shaping yourself into the person you want to be and finding your path in life. I truly enjoy Säfstrand's writing and I'm captivated from beginning until the end." – Sofiasbokhylla, book blog
"A feelgood novel about the importance of 'owning your own life' and the effects positive thinking can have on our lives" – Dagens_boktips, book blog
"She has done it again! Created something beautiful out of broken pieces. Darkness, disappointment and secrets (always secrets!) are gently handled and ebb out into a wonderful feeling that there is hope for the future. The difficult things take up space and can be painful, but with the absolute queen of feelgood that Säfstrand is – you can count on a glorious resolution in the end" – Boktyckaren, book blog
"I'm completely struck by how Caroline Säfstrand manages to put into words how all of the characters' different journeys lead them to a better life. And while doing it she also creates a story that builds a nest within my heart. It's one of those books I will forever carry with me and bring out during those moments in life when you're faced with difficulties." – Maddys_boksida, book blog
"The Happy Ever After Writing Club is also about meeting and lifting each other up when it feels difficult. And it's about daring to be grateful for what is already good in your life. With empathetic tone and great sensitivity to human tragedies, Caroline Säfstrand writes about daring to hope for a better future, because the happy endings rarely write themselves. Taking small steps in the right direction can require an enormous amount of courage, and the author's way of portraying that we must be receptive to and dare to let the light into our lives to get our own membership in the Happy Ever After Writing Club makes this book a real hit. Rarely have I read a feelgood novel where the premise and underlying message harmonized so well." - Johannas Deckarhörna, book blog (contact us for full review in English)