Writing Club for Happy Endings (Klubben för lyckliga slut)
Caroline Säfstrand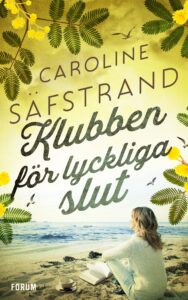 Rights sold
Denmark: Alpha
Sweden: Forum
Norway: Anemone
Nominations and Awards 
Three women, who all find themselves at crossroads in their lives, receive a flyer on their windshield. It's an invitation from the writing coach Sam and his club "Writing Club for Happy Endings".  Neither one of them plan to attend, yet they all end up going.
Cecilia who recently lost her husband at a much to young age and who isn't sure how to move on. Lisbeth who longs for something beyond her predictable marriage. Ivy who is sick and tired of worrying and wishing she was more like everyone else. Even the writing coach Sam has a few things he needs to process.
One day a week they will all gather at the writing club that will come to have a big impact on all of them. With the pen in hand, secrets are revealed, and they all learn to truly live, love and laugh again. They have eight weeks to write their own happy ending. Will they succeed?
A book about people getting lost in life and how to find ways - with the help of new friends, the writing coach Sam and by expressing their feelings and dreams they will find a way back. Or rather: find new paths.
TBD  pages
Reviews: 
coming soon