A Storm at Christmas Time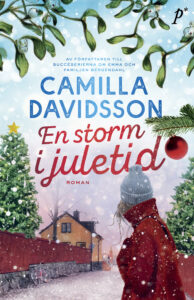 Rights sold
Denmark: Palatium books
Germany: S. Fischer
Norway: Aschehoug
Sweden: Printz Publishing
Awards and Nominations 
Shortlisted for Best Feelgood at the Storytel Awards 2022
Christmas is approaching and the entire city of Stockholm is preparing for the approaching holidays. Alice is usually a major fan of everything that sparkles and the bright decorations, but this year is different. She is having a hard time getting over the betrayal she was exposed to last Christmas and so she chooses to hide away in her tiny sublet apartment.
To make ends meet while in hiding she works as a freelance editor taking on aspiring authors and helping them with their manuscripts, a job far away from the promising career she had built before everything that went down last year. Since the bank account is nearly empty, she takes on an assignment against her will helping the renowned crime writer Samuel Engman with his new manuscript. He has decided to write feel-good for the first time and is struggling with the new genre. Fiction will become reality when the two of them work on building his story from scratch and romance sparks.
As Christmas gets closer Alice begins to soften up, but will she be able to put last year's betrayal behind and start trusting people again?
347 Pages
Reviews
"I already knew Camilla Davidsson is such a good writer when it comes to describing relationsships, especially mother and daughter, but this book warmed my heart over the loving descriptions of Confucious, Poppy, Maja and Lisa" – bibblioagneta, book blog
"This year's first Christmas novel and it delivers Christmas spirit deluxe. In the scene when they are at the cottage in the Swedish alps I get the vibes from the music video 'Last Christmas' with Wham. This book contains all the right ingredients for a great Feel-Good book: snow, love, confusions, loneliness, betrayal, happy children and saffron buns." – Maddys_boksida , book blog
"I couldn't stop reading while I also didn't want the book to end! A wonderful story before Christmas with friends, Christmas candy, holiday stress and love. It will be hard to find a Christmas book that beats this one." – bokigasteboken, book blog
"You get two books in one with the meta aspect! Lots of Christmas spirit, suspense, snow, friendship, love and problems – everything a good Christmas novel should contain. 5 out of 5." – lasaochfika, book blog