Villa Sea Breeze (Villa Havsbris)
Caroline Säfstrand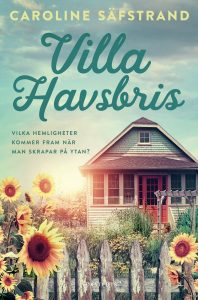 Rights sold
Sweden: Norstedts
Norway: Strawberry Publishing
Looking for three people to help with the restoration of a health resort with a distinguished past. Payment: Accomodations and food. Demands: you should be handy but come with light baggage only.
Sophie reluctantly returns to her childhood home, to the famed Villa Sea Breeze health resort, which she inherited after her mother passed away. She has no wish to remain there longer than necessary and her plan is to return to her career and life in Berlin as quickly as possible.
Villa Sea Breeze has been passed down for generations. During its glory days it housed several poets and authors but it is currently rundown. Selling the hotel turns out to be more troublesome than expected and she gets the advice to renovate it first. She puts up ad for help and shortly three people, very different from each other but hungry to pitch in, move into the house. Each longs for a break from their old lives. It will come to pass that their baggage isn't as light as they first say, but slowly as the house begins to change, so will the people inside it.
In the house next door lives Ella, an old lady who's been the gardener at Villa Sea Breeze for years. She is deaf, which allowed Sophie's mother Mona to be able to relieve herself of her troubles without the risk of them being revealed. But what Mona didn't realize was that Ella is a lip reader. And just before her death, Mona revealed a secret that she should have brought with her to the grave. Now Ella faces a dilemma. Should she tell Sophie about the secret her mother kept from her?
Villa Sea Breeze - the Health Resort by the Ocean
375 pages
Reviews: 
"Swedish Feelgood that has Everything!" - Aftonbladet
Reviews on Caroline Säfstrand's previous books: 
"A warm novel that stays with you"
Bonniers Bokklubb
Reader's Comments: 
"I just wanted to let you know that you have given me two of my greatest reading experiences, and I look forward to diving into your third book so much. Never before have I become so physically touched, my whole inner world is shaken after having read Mystery's Kitchen and I had already been incredibly moved by Time Heals No Wounds… I have read nearly everything by Jojo Moyes whom also moves me but not as much as your writing does!" - Anonymous email
"Mystery's Kitchen is a book that affects you deeply. I loved it. What a wonderful story and what living and warm characters. Imagine to have a "Signe" as the next door neighbor... I was so touched by the end of the story and so sad that it ended. Thank you for an amazing reading experience!"
Eva Andersson
"A wonderful story. Caroline is like a Swedish Anna Gavalda. I didn't want the book to end. Unlikely, sure, but so nice, human and tender. Like a beautiful saga. "
Storytel reader,  5/5