The Wineyard for Wild Dreams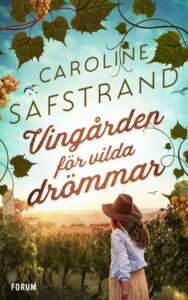 Rights sold
Denmark: Alpha
Finland: Karisto
Sweden: Forum
Shortlisted for Best Feelgood at the Storytel Awards 2022
Lost dreams become wild dreams when the path of four strangers becomes intertwined at a vineyard in Skåne.
Veronica leaves her husband, the apartment on Södermalm and her job as an accountant. She doesn't know where she is headed; she only knows she must get away. In the town of Arild, 560 kilometers further south, Marcus puts up the sign "Room for Rent." Another attempt to get the finances going at the vineyard that his grandpa left for him to care for.
At the same time Lilly is alone in her apartment in Helsingborg and she quietly observes the life that goes on outside her window. In no way could she have guessed that a young woman who just left her life in Stockholm would come to change everything.
350 pages
Reviews: 
"This book is a true pearl. A dedication to both the billowy fields of Kullabygden as well as to the genre that it represents. It's heart warming, feels intimate, sparks with hope and makes my fictive list of friends grow larger... the only problem is I can't stop reading and when reality bangs on my door I can't allow it in 'please hold, I'm at the Vineyard for Wild Dreams'... I'm enjoying every single page and when I'm done the book carries me on. For me that is the signature of Caroline Säfstrand's writing - the books continue to carry me and live inside me for a long time after reading them. You know just what to expect after a book by Säfstrand: a big heart, unexpected meetings that open up doors within the characters and the reader who is as hopeful about change and renewal." @carolinesbokhylla, book blog
"A warm and emotional read about finding your way back to love, laughter and joy. About daring to fulfill your dreams and be true to yourself. The Vineyard for Wild Dreams has sad tones, but it is also a tribute to humanities amazing ability to strive for change." - BTJ, Library service no 14
" Another really good book from one of the masters of the genre. With a precisely balanced mix of darkness and coziness, the author has created another solid feelgood novel." - Bok_stavligt
" Wow, what a wonderful book, it really has it all. Seriousness, humor, joy and sorrow. It is strong life stories and reading that touch. And to be true to oneself, dare to let go and find one's true self." - boktanten
" There are books that are hard to describe because all the beautiful words you can think of are too small. The Vineyard for Wild Dreams is one such book. A book that arouses so many emotions and whose beauty is hard to find words for. For Caroline Säfstrand's story grows into something bigger and in the meeting with people with such different baggage, something magical and beautiful happens. Everything put together in an authentic and credible way." - i_min_bokhylla
"Caroline Säfstrand knocks me out completely with her seventh book The Vineyard for Wild Dreams. I discovered Caroline's books in 2017 and have since read all of them, which I just think are getting better and better. She often writes about family secrets, relationships and about finding herself in the meeting with others, so also in this book. It is a warm and tender novel that I really recommend to anyone who likes to read feelgood with a little darkness." - tessansboktips
" It is a bittersweet story in wonderfully described settings and a gallery of characters where she dares to go out on a limb. There are few writers in this genre who in such a humble way draw their story and despite the somewhat expected ending, the journey there is touching." - Frokenmillaskanslaförbocker
" I think Caroline is a master at weaving together the melancholy with a spark of hope into a wonderful feelgood. The weight that lies at the bottom is extremely fine and gives the book an extra depth. Something I've been thinking about is how open people are in this type of book. They invite strangers and open their hearts, which often leads to friendship. It will of course make better books. But I still intend to take it with me to real life. Dare to go outside my comfort zone."-  Emeliesboktips