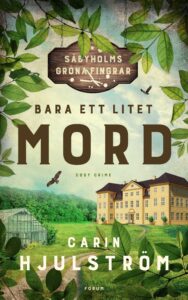 Rights sold
Finland: Tammi
Sweden: Forum
Film rights: Nordisk film
The famous and beloved actress Siri Ehrensvärd has had a great career. Now she is soon turning sixty and her big love, Erling, who is a famous director has been her secret lover for a long, long time and now he talks about finally leaving his wife. And he does. But not to spend more time with Siri, instead he marries a young actress who also carries his child.
He fires Siri from the big theater and she is disgraced in so many ways.
Siri has no children of her own, she has given her life to the stage and Erling. She carries a constantly bad conscious for not taking care of her nephew Anton. He has in a way become her responsibility since Siri's brother and wife disappeared on an adventurous trip to climb Kilimanjaro. But Anton has been left more or less on his own and he has been drawn into bad companion. Now Siri sees a chance to maybe make things better by engaging in Anton's life. To forget her own.
Together Siri and Anton get their hands on a plant school and they decide to start their own business in the beautiful countryside of Säbyholm, this is where all the adventures starts and the calm countryside is not as peaceful as one could think, here we find old family secrets and local fights and also criminality that likes to hide their business where they think no one can find them. 
Part 1 In Carin Hjulström's cozy crime series Säbyholm's green fingers were readers are met with sudden death in a castle environment in a true "Whodunnit" storytelling.
423 pages
Review 
"Just a Small Murder is first part of Carin Hjulström's series of crime novels, called Säbyholms Green Fingers. The series of novels – so far there are five books in the series – take place the surroundings of a castle in the Swedish countryside. They portray how famous actress Siri Ehrensvärd and her semi-criminal nephew Anton restore a run-down nursery and bring it back to life. Hjulström has already written a series of popular novels about Frida Fors, and with Just a Small Murder she successfully moves to the cozy crime genre which has its origins in the works of Agatha Christie, Alexander McCall Smith and others. It is being made into a television series in Sweden. " Karin Filipsson, Swedish Book Review