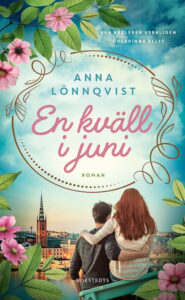 Rights sold
Denmark: Palatium
Germany: Insel
Sweden: Norstedts
Ella and Ben meet one evening in June 2007 outside Gröna Lund. They spend an intense evening together, before they had to separate and Ben took the train home to Kiruna. They were sure they would even meet again.
Twelve years later, Ella lives in a secure relationship with her childhood friend Leon, a perfect match according to their surroundings. She works as a freelance writer and has just received an offer to write a ghost biography about the legendary, but somewhat difficult, Fredrika Bergh - one of Sweden's most prominent business women.
When Ben unexpectedly reappears, everything comes to an end. Ella has never forgotten the night they were seen, but neither has Ben's betrayal and she is determined that it does not change anything. But the further she gets in the work on the book about Fredrik's life, the more insecure she becomes on her own. Should she make the same mistake that Fredrika once did, or should she dare to let go of everyone's expectations and live for her own sake?
One Evening in June is an emotional story about immediate attraction, lost love, difficult life decisions and daring to let go of everyone's expectations and live for their own sake. That someone we have never met before does not feel like a stranger, but rather like someone we have known for a very long time. It takes place in a summery Stockholm and its surroundings, where a love story more than fifty years ago and a friendship that grows across generational boundaries becomes very important for the plot, and moves between the present and the summer of 1968.
374 Pages
Reviews:
"This book takes me by storm and it is probably the best I have read by Anna so far. It can only be a real full pot! " – Books by Jennifer
"Wow, what a book! So emotional and touching. So full of love, dreams, life choices, sadness, misunderstandings, and the desire to dare to follow ones heart. In short, all the ingredients needed for a first-class feelgood. " - Boktanten
There is an expression: "You had me at hello", and that describes this book to me. What a book, what a depth. This is romantic feelgood at its best. On several occasions I am completely tearful and I feel the pain and sorrow of those involved. It is so fragile, painful, nice, passionate and hopefully written. Anna, your books are incomparably good. " – Maddes Boksida