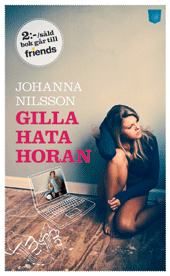 Rights sold
Denmark: Alvilda
The Faroe Islands: Bókadeildin Føroya Læraraferlags
Germany: Beltz  & Theatre Rights to Editions Smidt
Lithuania: Alma litera
Sweden: Pocketförlaget
Jonna and Gloria are 15 years old and best friends. They are not very popular, but not bullied. One day they hang on a Lucia celebration party and get to dance with Robin, the school's coolest guy who seems to think that they are okay, even sweet. It's almost too good to be true. And it turns out to be. Nasty comments start popping up on Gloria's blog and on Facebook a "Hate the Whore"-group is established. Gloria feels so depressed, she starts cutting herself again. Jonna must do something and decides to retaliate with the same weapon. Because on the web, anything can happen.
Johanna Nilsson's new YA novel Like Hate the Whore is a highly topical story about bullying. The book is an emotionally loaded novel that is about how quickly rumors can be started and spread, how the executioner can easily become victims, and vice versa.
The book is published in cooperation with the organization Friends, which works to prevent bullying in schools, and Pocketförlaget. Johanna Nilsson's debut novel, She goes through the Frame and out of the Picture, was published in 1996 has also been used by Friends and in schools and has become one for many a vital reading experience.
168 pages
Reviews
"Everything is quick online, something happens and then cruel insults are thrown back and forth without further thought. All behind anonymity. Like Hate the Whore is worth reading and it should be discussed after reading."
Kristianstadsbladet
"Like Hate the Whore is worth reading and it should be discussed after reading. That is why it is so good there is a teachers' tutorial made by Friends, available on their web site."
Kristianstadsbladet