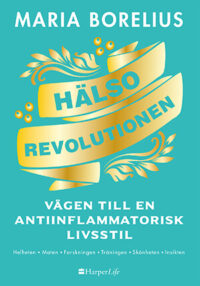 Rights sold
Australia: HarperCollins
Croatia: Egmont (Puls)
Denmark: HarperCollins
Finland: HarperCollins
Germany: Lübbe Life
Italy: HarperCollins
Netherlands: Spectrum
Norway: Strawberry Publishing
Sweden: HarperCollins
Poland: Insignis Media
UK: HarperCollins
US: HarperCollins
Health Revolution is the incredible story of one woman's quest to banish depression and fatigue, boost her energy and live a healthier, happier life.
When Maria Borelius' energy and health started to decline, she decided enough was enough and embarked on a personal journey to transform herself. The results were extraordinary…
Bringing together ground-breaking research from across the globe, the ancient wisdom of Ayurveda and a lifetime of experimentation, this book presents a simple five-step plan to bring out the best version of you. You will look younger, and more importantly, you will feel better.
Through delicious recipes, lifestyle tips, and Maria's own extraordinary journey, Health Revolution is all you need for a stronger, happier, healthier you.
342 pages
About the book: 
"I was 52 years old when I started to feel tired, old and bloated. I had back pains, climacteric complaints and felt a general feeling of life soon being over. "Is this what I'm going to feel for the rest of my life?" a part of me asked. "No, there has to be something more" another part answered. And so began a four year long journey where I by miraculous chance discovered a completely new lifestyle – the anti-inflammatory one. Like a detective I started digging for new knowledge and travelled all around the world to start laying a puzzle. I received clues from scientists in the frontline of science, unexpected gurus and fitness specialists, and discovered how low-grade inflammation is connected to so many of our diseases but also that there is something to be done about it. A new world opened in front of my eyes; one of food that heals and exercise that reduces inflammation, but also one of strong feelings, sunsets, longevity and ancient Indian health treatments. And whilst I researched this new world, I tested everything on myself; sometimes successfully and often with many setbacks.
Health Revolution is a story of both a knowledge and a life journey: about how an anti-inflammatory lifestyle can strengthen us on many levels. My goal has been to write a book that's both inspiring, investigative and useful – with a series of simple treatments, recipes and tips that help you to get started with your new, brighter life."  - Maria Borelius, Author
Reviews:
"It was with great joy that I received Maria Borelius' book Health Revolution yesterday. The book is selling quickly and it's easy to understand why. Who doesn't want to improve their health through food and healthy living. It's a real page turner and I curiously followed Maria's personal journey of food and exercise to insights and discoveries about inflammation and its health effects. - Amelia, Leading Swedish women's lifestyle magazine
"Of all thoughts about health and illness, Maria Borelius' book Health Revolution is the one that I really think is on the right path. Agree with basically everything. Very good, Maria!" -Malin Berghagen, Swedish author and yoga instructor