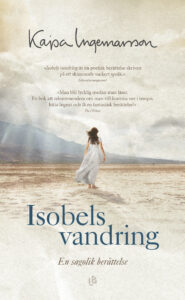 Rights sold
Poland: Kobiece
Sweden: LB Förlag (previously Bladh by Bladh)
Walking with Isobel is a magical and fascinating story beyond time and space. In this beautiful tale we follow the young Isobel and her friend Anived in their search for The Man with the Stone, a mysterious figure whose legendary talents intrigue Isobel and sets them off on an adventurous journey far from home. Accompanied by the music from their flutes, Isobel and Anived wander across vast plains, past the sea shore and through the foliage of the dark forest, but also over harsh wilderness and endless desert. In the horizon rises the silhouette of the mountain, the end of the world, alluring them with an unspoken promise of greatness and mystery. Along the journey, the two meet numerous friends and guides, but more than anything else, they meet themselves.
Walking with Isobel is a unique book deeply rooted in the tradition of epic storytelling, related to such writings as The Prophet by Kahlil Gibran, The Little Prince by Saint Exupéry and The Alchemist by Paolo Coelho. The book is generously illustrated by talented artist, Saga Mariah Sandberg, who has woven the symbolic content of the story into magical motives filled with depth and mystery.
Reviews
"I just finished reading Walking with Isobel by Swedish wllknown author Kajsa Ingemarsson and I am blown away far from words. With this amazing saga, Kajsa proves herself to be the next Paulo Coelho without a doubt! A fantastic story beyond time and space that will leave no one untouched, And if Kajsas writings weren't enough, Saga Maria Sandberg has done completely mesmerizing illustrations that goes so well with the lyrics. You simply HAVE to read this!" / Lyckobackens_levande from instagram
"Walking with Isobel is so beautiful. Fantastic vivid descriptions of surroundings, characters and events. So many marvelous, unique words and descriptions that you rarely come across often these days."
"The book almost becomes meditative and you become happy when you read it. A book to recommend if you wish to stress down, find peace and calm and experience a fantastic tale with gorgeous images!" / Du i fokus
"...A fantastic tale filled with magic."
"A text as beautiful  gorgeous as the softest silk"
"Not only is it a beautiful tale but it also entailed and sprung upon me a lot of consideration, Aha-moments and discoveries."  / Boklysten
"I absolutely love the book! It only took me a few pages to come into the stillness in the calm and magical storytelling. So very easy yet deep knowledge."
"Marvelous, a tale to reflect upon"
"I felt as if I were floating"
"Walking with Isobel has captured me more than anyone has in a very long time"
"Words and sentences sweeter than the sweetest thing. Like the softest honey, so carefully selected, tender and vivid. Filled with insights"