I Will Never Give Up On Myself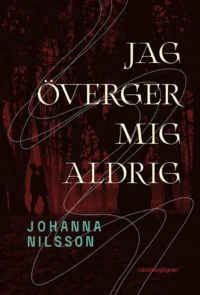 Rights sold
Sweden: Rabén&sjögren
Lykke cannot sleep. Instead, she whizzes around Uppsala through the night on her roller skaters, trying to survive hour by hour. Trying to survive without Charlie. Sometimes she visits his grave in the Old Cemetery, sometimes she just walks around aimlessly, without meaning or purpose.
One night of anguish, she meets Sami. He stands crying in a puddle in the English park and it's love at first sight. Could he be the one she's been waiting for, the one to make the pain and loss bearable? But Sami has his own problems to contend with, his own battles to fight. Should he dare to go against the family's demands and do what he himself wishes with his life? And is a tangled love story what he needs right now?
Lykke and Sami are drawn to each other, but for her it's always high peaks and deep valleys, all or nothing, heaven or hell. Will he be able to come along on that trip?
Johanna Nilsson has been nominated several times for the August prize and she describes the strong emotional storms of adolescence like no one else. She doesn't weigh in, but approaches difficult and heavy subjects in a soft but at the same time uncompromising way and no reader is left untouched.
214  pages
Reviews 
"I could imagine naming Johanna Nilsson as one of Sweden's most stylish authors for young adults. Her language is at once precise and sumptuous, short sentences and perfect punctuation combined with small bursts of more wordy passages. She is at her best in the depiction of extreme states, bottomless sorrow, wondrous happiness, psychosis." /.../ "The portrayal of Lykke's manic state is absolutely brilliant. The parts of the book that focus on the protagonist's inner self, her mood and emotional life, are brilliant." Lydia Wistisen, DN magazine
"Strong, important, very well written, dark and painful story about mental illness. Johanna Nilsson has in previous stories for young readers written deeply touching about what really hurts and here she explores the darkness of life from new perspectives. Overall rating: 5" Helene Ehriander, BTJ Library Services