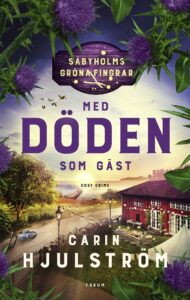 Rights sold
Sweden: Forum
Star actress Siri Ehrensvärd and her nephew Anton run a nursery in the idyllic village of Säbyholm. The summer begins with Upplands-Bro's richest man inviting the entire village to the inauguration of a luxurious event venue, housed in a barn next to Lake Mälaren - the same barn that the municipality promised the villagers to get as a homestead. The morning after the party, a young man is found dead in a ditch. Local police officers Olle and Rita get the investigation on their desk and, as usual, Siri is also involved.
Anton has always wondered what happened to his parents when they disappeared on Kilimanjaro more than twenty years ago. Wanting to find out more, he and his girlfriend Cecilia head to Tanzania in this fourth book in the series, where the picture of what happened slowly emerges.
Part 4 In Carin Hjulström's cozy crime series Säbyholm's green fingers were readers are met with sudden death in a castle environment in a true "Whodunnit" storytelling.
420 pages