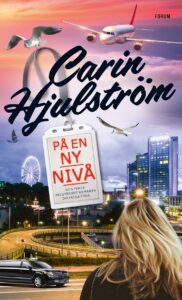 Rights sold
Sweden: Forum
Top-level love and intrigue.
Journalist Frida Fors is approaching fifty and everyday life is chilling. So many years in the same townhouse, in the same city and with the same old program manager job on the radio. Frida wants to move on. She longs to take life to a new level before it's too late.
Step one will be to affirm the love of the jazz musician Chance in Paris. Step two will - quite surprisingly - be a top job at the Swedish Exhibition Center in Gothenburg, where there is complete chaos ahead of an upcoming EU summit. The mission takes Frida out into very deep water. How will she be able to deal with presidents, prime ministers and other inflated egos who are arguing about everything from Brexit to who is the best at golf? It does not get easier when Russian stakeholders get involved. The problems pile up.
The pressure on Frida increases further when her best friend Madde goes into a life crisis and starts a love affair with a man that Frida knows too well…
320 pages
Reviews:
"Carin Hjulström writes as usual with a good mood and timing for slapsticks." -  Tara Magazine
"Easy-going, fun and with a good eye for middle-aged women's lives." - Hemmets Journal
"... depicts a modern woman's challenges with a humorous touch."-  Södermanlands Nyheter