Reclaim Power of Your Health in 12 Weeks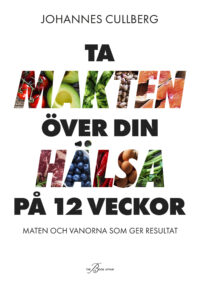 Rights sold
Nominations & Awards
Shortlisted for Best Non-Fiction of the Year at the Adlibris Awards 2023
Johannes Cullberg helps you reclaim power of your health in 12 weeks! Through small smart tricks in a changed lifestyle where food and habits play a big role, you can get fantastic and sustainable results. Recharge your health batteries with health inspiration Johannes Cullberg showing the way.
Considerably more people are today more unhealthy than healthy, both in Sweden and globally. More than half of Sweden's population is overweight; lifestyle diseases such as cardiovascular disease, high blood pressure and type 2 diabetes are at record levels. Mental illness shows the same negative trend. And we see no tendency to change.
What happened? Have we suddenly become lazy and weak, or is it some global disease that has spread? No, but in just a few decades, the way we live has fundamentally changed, and we have gradually lost control over our health.
We are human animals with a brain that has not developed significantly in the last 40,000 years. A fact that is used, among other things, by big food producers, who design their products to perfectly match our evolutionary weaknesses. This maximizes the sale of cheap, energy-dense and nutrient-poor fake food, and we pay the price with our health.
Therefore, it is now time to take back control of our health, before it is too late! This is a practical handbook with clear instructions about what you need to do, week by week, to take a comprehensive approach and get started on a health journey that will last the rest of your life. Here you can share Johannes' many own mistakes and lessons learned from his own health work, as well as the work with thousands of clients over the years, so that you can reclaim power of your own health.
This is not a quick fix. It is absolutely not a weight loss book with tough, boring diets. And it is not a training book with advanced exercises for elite athletes. It is an inspiring health book for those who want to eat well and live well for a long time.
199 pages