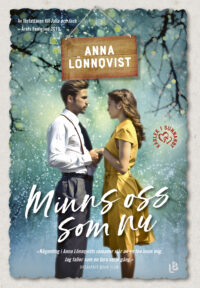 Rights sold
Sweden: LB förlag
The day before Christmas Eve, the florist Thea arrives in a frosty Sunnanby from summery New Zealand. She has two weeks to take care of the estate that her mother's aunt left behind, then she will go back to continue running her beloved flower shop. The one who has become her's ever since Thea fled Sweden just over three years earlier, determined never to return.
The house that Thea has inherited houses a large sewing studio and soon turns out to be full of secrets, and Aunt Marianne is much more passionate than her lonely existence suggested. Thea quickly becomes engrossed in finding answers. At the same time, she meets Tim, the handsome but enigmatic photographer, and notices how she begins to draw parallels between her own life and Marianne's. They seem to have more in common than she could ever believe.
However, Thea carries her own heavy secret and knows that she can never have a relationship again. Tim, in turn, has a tangled past from which his heart has never recovered. The dream of the two is impossible from the beginning and when time runs out from them, Tim also turns out to have hidden things that have far greater consequences than he himself could have imagined. All they had was now.
Remember us This Way is a romantic feelgood novel, a story about broken hearts, difficult life decisions and a longing for true, great love. It is the second completely independent part in a series of love novels that takes place in the idyllic northern town of Sunnanby.
382 pages
Reviews:
"Anna Lönnqvist tells very well about how we deceive ourselves and each other." Lotta Olsson, Dagens Nyheter
"Winter sparkling descriptions of nature and enchanting loves, Anna Lönnqvist has written another delightful love novel filled with bittersweet melancholy but also longing and heat." Breakfast Book Club
"Lovely, loving and wonderfully predictable. A nice feel-good book simply. " Book passion