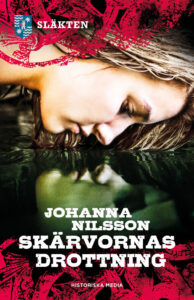 Rights sold
Sweden: Historiska Media
Hedvid, born and raised on the green fields of Ranstas, dreams about another life than what is offered to her during the 16th century in Sweden. Ever since she was a child she has longed for a life of freedom, without a husband dominating her future. Encouraged by her grandmother she has therefore decided to join a monastery. But her plans come to an abrupt end when Hedvig is forced to flee her village prematurely. Like a fugitive she moves through a kingdom defined by the cruel Danish king Kristian.
During her journey she meets a young man who is also on the run. He calls himself Gösta. They have a secretive conversation one night in a barn in Dalarna. And then they part ways. But not in mind. Hedvig's continued journey is tentative in the dark, where the road neither lead where she intended nor where she wanted to go. How does one manage life with a constant yearning for someone you love? How many losses can a human being carry before they completely shattered into merely fragments.
THE QUEEN OF FRAGMENTS is Johanna Nilsson's emotional story about a young woman in a dramatic period of time. It's the eleventh part in the popular novel series "Släkten" (THE RELATIVES) published by Historiska Media.
http://www.släkten.historiskamedia.se
350 pages
Reviews
"A novel that nestles its way into you for every page. It's emotionally touching, upsetting and moving. And exciting!" Bibliotekstjänst