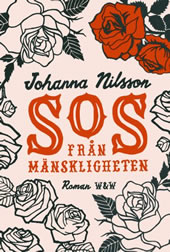 Rights sold
Latvia: Apgads Kontinents
Sweden: Wahlström & Widstrand, Månpocket
Who or what is Benjamin, the guy who tattoos flowers onto his upper torso – one flower for each person he's loved and perhaps has helped to a better life?
In his parents' eyes, he's a traitor and a murderer. In his customers' eyes, he's a skilled escort. Many of them fall in love with him or find comfort in his arms: Michael, the businessman who doesn't want to be touched but wants someone to watch over him while he sleeps and Erika, the hard-driving businesswoman who loves her partner but can't deal with his children or the struggle for love between them. Then there's Katja, the wheelchair-bound tattoo artist who worships Benjamin's skin. Katja dreams of taking flight and of a child to hold in her arms.
All the readers of the prize-winning novel Loved Ones on the Edge from 2005 will recognize themselves in Johanna Nilsson's latest novel, even though this time she digs deeper into the dark side of the human soul. SOS from Humanity is a contemporary story which addresses all classes of society and questions the origin of evil, the limits of good and evil and the courage to take charge of one's own life instead of standing on the sidelines and watching everything pass by.
260 pages
English reading material available. Translation by Laurie Thompson.
Reviews
"How I absolutely love this book. Johanna Nilsson weaves together a tangle of people and feelings, at the same time as she manages to describe the painful loneliness tormenting so many people today. And still, the book injects hope, even if it is ever so little. A mandatory November read."
Metro/Paper Back of the Week
"Nilsson has found her own voice./.../In her tale of a luxury gigolo's wandering through hell and back, Johanna Nilsson reflects humanity's search for happiness in a confused time. SOS från mänskligheten (S.O.S from Humanity) has a deeply personal voice and is her best book to date./.../Johanna Nilsson has managed to weave together psychological portraits with philosophical and even evangelical examples. Her characters each bear an idea, but they are also depicted with psychological nuance./.../So now she has written a remarkable book, which shows that she not only has distinctive insight into the essence of evil and human beings, but also she has developed a unique and deep personal style."
Svenska Dagbladet
"This novel reminds me of Lars von Trier's film Breaking the Waves./.../…at the same time, her depiction of Benjamin's journey through Hell is deeply gripping and nastily believable down to the most repugnant detail./.../Through the years, Johanna Nilsson has become one of our most observant and keen depicters of Stockholm./.../That Johanna Nilsson sticks out above her contemporaries is due to her gravity; seldom have I read such challenging depictions of brutality. Nevertheless, there is a great deal of reconciliation."
Dalademokraten
"a language which glows in the dark/.../A novel which beats its readers to a pulp, but is constantly fascinating./.../A novel great in its tragedy, deeply human in its insightfulness, impressive in its literary exploit: showing that Strindberg got it right all along when he said 'It is a pity about people'"
Curt Bladh
"In the middle of all of this, there is humor. Human beings brought back together, human beings leaving bad relationships, who recover from agoraphobia and unhappy love./.../The point (of the book) is critical of society in an obvious manner, but never, and this is important, never do her characters appear other than totally alive.
Nerikes Allehanda
"Johanna Nilsson is a priestess in the best meaning of the word; in book after book she preaches hope to her readers. The message in her allegorical tales is simple: Outsider status is not easily seen from the outside. Loneliness is universal – if you want to abolish this, you must start by being honest with yourself."
Kristianstadsbladet