The World from Above (Världen från ovan)
Anna Lönnqvist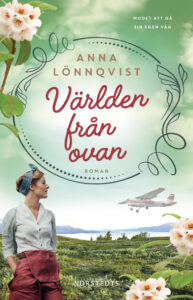 Rights sold
Sweden: Norstedts
The World From Above is a strong, magnificent and captivating novel about the courage to go one's own way, about renunciations, betrayal and the search for the truth. And about the great love.
In the northern alps of Jämtland 1963. Lill is one of the first female pilots in Sweden. Flying is her great passion, but the road to get there has been anything but easy. The price of trying to assert herself in a male-dominated world has been to renounce everything else, but it is also the only thing that helps her suppress the feeling of abandonment, which Lill has struggled with since childhood when she came to Sweden as a Finnish war child.
Solna 2023. Pauline works as a tailor and spends her days in her sewing studio fulfilling strangers' dreams of perfect wedding dresses and saving favorite garments from being thrown away. She has long since put her own dreams on the shelf. But while mending an elderly woman's coat, she finds an old photo depicting the woman in the cockpit of an airplane. The photo evokes thoughts in Pauline, and memories of another, much more adventurous existence.
When the two women's paths cross, they are both on the run from their past lives. But is it possible to escape from your past, your fears and yourself for any length of time? Can one's story change the other's future?
360 pages
Reviews:
Coming soon