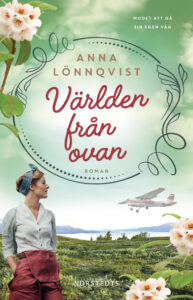 Rights sold
Denmark: Palatium
Sweden: Norstedts
The World From Above is a strong, magnificent and captivating novel about the courage to go one's own way, about renunciations, betrayal and the search for the truth. And about the great love.
In the northern alps of Jämtland 1963. Lill is one of the first female pilots in Sweden. Flying is her great passion, but the road to get there has been anything but easy. The price of trying to assert herself in a male-dominated world has been to renounce everything else, but it is also the only thing that helps her suppress the feeling of abandonment, which Lill has struggled with since childhood when she came to Sweden as a Finnish war child.
Solna 2023. Pauline works as a tailor and spends her days in her sewing studio fulfilling strangers' dreams of perfect wedding dresses and saving favorite garments from being thrown away. She has long since put her own dreams on the shelf. But while mending an elderly woman's coat, she finds an old photo depicting the woman in the cockpit of an airplane. The photo evokes thoughts in Pauline, and memories of another, much more adventurous existence.
When the two women's paths cross, they are both on the run from their past lives. But is it possible to escape from your past, your fears and yourself for any length of time? Can one's story change the other's future?
360 pages
Reviews:
"Anna Lönnqvist has once again portrayed strong women who go their own way, and every time she does it with a narrative style that is as lovely as a warm summer breeze caressing the cheek. The combination of strong women, historical elements, wonderful environmental depictions and love stories that overcome time is unbeatable" - @boknjutaren
"I believe this might just be the best book by Anna Lönnqvist so far. A powerful portrayal of fulfilling one's dreams, stopping running from one's past and daring to face one's fears" - @bok_stavligt
"I have read most of the books Anna has written and I think they get better and better. The world from above is a strong, magnificent and captivating novel about the courage to go one's own way, about renunciations, betrayal and the search for the truth. And about the great love.
This novel takes me on a rollercoaster of emotions. It is warm, empathetic and at the same time has a depth that makes me shed a tear now and then.
Lill and Paulin are two souls who have taken a place in my heart, Lill who dares to go her own way in the 50s and who makes many raise their eyebrows and at the same time Pauline, a single mother who realizes her dream in 2023. So similar fates but yet so different.
To then be able to be there when these two women's paths cross and to be able to follow them up close as a nice and genuine friendship develops is so incredibly nice. An emotional and very good book." - @bettan_bokprataren
"Okay, now I've stopped sobbing and pulled myself together to write this review. This book really dug its way into my heart. Such a sad but at the same time so warm story. Lill whom we get to follow from the 50s up in Norrland, into the 60s when she started working as one of the first female Swedish pilots and then in the present as an 83-year-old bitter and lonely lady. And then Pauline as a single mother to her 11-year-old daughter who toils day in and day out in her sewing studio and makes other women's dreams come true with her beautiful wedding dresses. Which carries a dark secret she hasn't told anyone that happened 12 years earlier, something that weighs on her something so enormous and is also the reason why she is alone. To be part of the journey when these two women's paths cross and see how their relationship develops, and through it how they manage to open up again after all these years. How the power of their friendship leads to something so beautiful, it brought tears to my eyes, I can tell you. So grateful to have read this fine book, highly recommend it." - @onceuponafrida
"After really letting this wonderful book take time both to read and to sink in, I now finally get to sit down and write down my thoughts for you. I have loved all of Anna's previous books but this has to be her absolute best yet! It's so incredibly beautiful, heartbreaking and warm all at the same time and it has so many layers.
I love reading about a female pioneer who breaks into a previously male-only arena and follows her passion despite everyone trying to tell her it's not right for her. It's also wonderful to read about a female friendship across the generations and about two friends growing up together and what that will mean for them later in life. It is heartbreaking to read about unrequited love and a love that may have been confirmed far too late, but in the end I, as a reader, am also left with an incredibly warm feeling." - @booksbyJennifer
"Anna is one of my favorite authors and I have read all her previous books, this book was also a hit. It is a fantastic depiction of life, friendship between two generations about two strong female portraits. The book is written in both present and past tense, but which intertwine in a natural way. I liked reading about the history of both, but I'm weak for the historical elements about Lill. It is a strong, poignant and moving read that is filled with warmth and also touches on life, friendship, sadness, strength, betrayal and a little love. A wonderful good read!" - @Veronicas_bok_bak_liv
"A strong, well-written and moving novel! Both Lill's and Pauline's fates touch me deeply and it is impossible not to feel everything they feel! The author really manages to make the emotions swing in all directions and there will be both smiles and tears during the reading. We get family secrets, unexpected friendship, longing, love, sadness and loneliness. A book about daring to take the plunge and go your own way. This is a book I wish I could read for the first time again and I envy those of you who haven't read it yet!" - @bokmysan