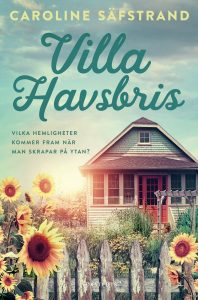 Rights sold
Denmark: Alpha (previously Strawberry Publishing)
Finland: Karisto
Germany: Blanvalet
Sweden: Norstedts
Norway: Anemone, Strawberry Publishing
Nominations and Awards 
Shortlisted for this year's Feel-Good at the Swedish Adlibris Award 2019
Shortlisted for Best Audiobook in the Novel Category at the Storytel Awards 2020
Shortlisted for Best Audiobook in the Novel Category at the Mofibo Awards 2020 - Denmark
Looking for three people to help with the restoration of a health resort with a distinguished past. Payment: Accomodations and food. Demands: you should be handy but come with light baggage only.
Sophie reluctantly returns to her childhood home, to the famed Villa Sea Breeze health resort, which she inherited after her mother passed away. She has no wish to remain there longer than necessary and her plan is to return to her career and life in Berlin as quickly as possible.
Villa Sea Breeze has been passed down for generations. During its glory days it housed several poets and authors but it is currently rundown. Selling the hotel turns out to be more troublesome than expected and she gets the advice to renovate it first. She puts up ad for help and shortly three people, very different from each other but hungry to pitch in, move into the house. Each longs for a break from their old lives. It will come to pass that their baggage isn't as light as they first say, but slowly as the house begins to change, so will the people inside it.
In the house next door lives Ella, an old lady who's been the gardener at Villa Sea Breeze for years. She is deaf, which allowed Sophie's mother Mona to be able to relieve herself of her troubles without the risk of them being revealed. But what Mona didn't realize was that Ella is a lip reader. And just before her death, Mona revealed a secret that she should have brought with her to the grave. Now Ella faces a dilemma. Should she tell Sophie about the secret her mother kept from her?
Villa Sea Breeze - the Health Resort by the Ocean
375 pages
Reviews: 
"Swedish Feelgood that has Everything!" - Aftonbladet
"Feelgood with a brush of nigrescence that touches and urges you to reflect. Caroline Säfstrand is a truly talented and skillful author. As per usual it leaves you longing for the next book written by her. 5 out of 5" - frökensmillaskänslaförböcker, book blog
"No ingredients was missing, nothing was to much. The plot and the characters get under your skin, nestles themselves into your heart and stir up all emotions all at once. 5 out of 5" – Charlotte Eriksson, reader
"Villa Sea Breeze is a Feel-Good that has nearly everything one can ask for. The dynamics between the characters are a great success. Caroline Säfstrand manages to weave in depth in her story that makes the story hard to let go off." – Johannas Deckarhörna, book blog
"Once I started reading I couldn't stop. A wonderful book about friendship and buried old secrets! Next summer I want to go to Villa Sea Breeze for my vacation."- Sofias Bokhylla, book blog
"I have said it once before and I'll say it again – This is Sweden's very own Jojo Moyes! I'm completely sold on her books and this one gets a shiny 5 out of 5 stars from me." – Camilla Strömberg, millimys book blog
"A Feel-Good pearl. The best thing about this book is Caroline Säfstrand way of writing. It's both gripping, sad but also filled with joy, lust and inspiration." Nilmas book blog
"Oh what a fantastic book, I was completely captivated by it! It surprised me many times over and offered so many emotions. It was gripping and emotional while at the same time it also felt light and heartwarming. Simply wonderful, don't miss out on this pearl" – Lindas book blog, All Booked - uppbokad
"Caroline Säfstrand is a master at describing relationships and the contradictory feelings within us all. It's Feel-Good with a perfect blend of intensity and depth. Your heart will feel full while your eyes are filled with tears." – Susanne, book blog, bokintryck
"A wonderful novel to sink your heart into. It's a story I will keep with me. 5/5" - Kustboktanten, book blog
"A well written book with believable characters that touches the reader. All emotions are mixed in. Just as in real life. Nothing is certain or simple. It's about life choices, sorrow, possibilities, friendship and a little love. I find the message of the book to be: 'There is always a reason for people being how they are, think about that before you judge someone'." - Bra Böcker, book blog