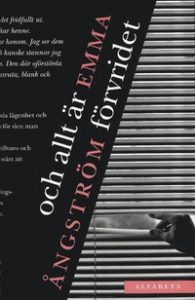 Rights sold
Sweden - Alfabeta
Hidden behind bushes, Erik is sitting outside his old apartment to spy upon Mina, the woman who left him for another man the night before he had planned to propose. In the apartment is Minas new partner, a man Erik had hired himself as a bait to test her love. Humiliated and paralyzed by longing Erik is trying to build a new life and to stop dreaming about Mina. But Erik is not the only one who has a hard time letting go of the past …
And All is Distorted is a dense, psychological suspense novel about the man, the relation, the revenge, the jealousy and the power game that unnoticed can sneak into a destructive relationship. Why do people enjoy tormenting their loved ones?
315 pages
Reviews
"This debut novel is the best I've read in a long time. / ... / So close emotionally, so captivating on different levels, a language both time-bound and springy. One does not forget any of the people - and as an ancient local, I also appreciate the cool urban narrative. Like Hjalmar Söderberg's debut "Delinquency" (Förvillelser) now 115 years later.
Per Wästberg, writer and member of the Swedish Academy
Aftonbladet
Ångström has cleverly constructed a psychological novel. ++++
Aftonbladet Cecilia Gustavsson
It's clever, well written and sticky creepy. / ... / This is just the beginning for Ångström. More books will be. And I'm looking forward to them.
Elle, Jessika Gedin
Emma Ångström's language is efficiently densified. She is able to create an ever-present sense of insecurity that resembles of Karin Alvtegen. "And Everything is Distorted" is a very promising debut.
Helsingborgs Dagblad, Crister Enander
Told from the protagonist Erik's perspective, we get insight into a destructive relationship and the obsession it could cause. We also get a taste of how sexual and psychological degradation can affect women who are subjected to it - it is complex, difficult to understand, and in this book it is told with frightful and vivid realization. Warning of nail biting when reading! Emma Ångström debut is intense, well-written and almost impossible to put down. It is highly recommended.
Internationalen, Linn Hjort
Oh, how refreshing it is with good debutants.
Kupé, Caroline Engvall
One is constantly tempted to read further, there is almost no dead parts. / ... / This book is swift, funny and partly very sad.
Gomorron Sverige, SVT, Magnus Utvik
It is competent, well written and not least very exciting with a few rather unexpected twists. This book, although it is not a proper youth novel, should be purchased to every secondary school in the country.
Gefle Dagblad, Tina Hemmingsson
Emma Ångström succeeds to skilfully shift the perspectives as the story progresses. / ... / As a depiction of destructive mechanisms and of revenge has "And Everything is Distorted" definitely it's points.
Svenska Dagbladet, Anina Rabe
"And Everything is Distorted is a destructive love story with unexpected twists and a storytelling with a suction that completely absorbs me. This is great! Really good! / ... / This novel is both credible and unpredictable without being artificial. I also admire Emma Ångström's way to carve the characters' different profiles, not by giving straight descriptions, but instead by letting the reader interpret the reactions the characters arouse, positive and negative.
Reading group, Nina Frid, managing editor
From the very first page of this captivating novel, I feel pity and feel sorry for the protagonist Erik. / ... / A driven, well written debut of the author Emma Ångström that gave me a taste for more.
Boktipset, Bibliotekstjänst, Maria Bergqvist
"Ångström's book is absolutely thrilling. I read all night, I couldn't put it down. My heart hurts and my stomach aches, while it begins to creep along my spine. // It is an incredibly exciting but also very subtle book . You are never sure, it is never clerly told what has happened, what it is that is wrong, and who is really right. Ångström gives the readers puzzling hints and leaves to the readers to draw their own conclusions. There is no complete truth, only subjective beliefs, just like in real life."
Cecilia Köljing, Småland-Posten