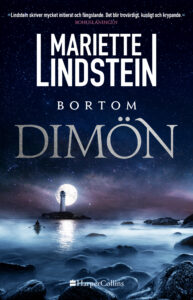 Rights sold
Denmark: Gyldendal
Germany: Blanvalet
Sweden: HarperCollins Nordic
Poland: Bukowy Las
Julia has left Dimön behind when she gets a desperate phone call: Franz Oswald, the former cult leader, has locked himself in the basement of the mansion and refuses to come out. When Julia reluctantly returns to the island to persuade him to interrupt his self-imposed isolation, what would have been a quick visit turns into something utterly different. An anonymous source contacts the newspaper she works for about a fifty-year-old unsolved mystery on Dimön. Three teenage girls disappeared without a trace one night in July. The event shook the small community then, and nowadays it is something the villagers are reluctant to talk about. The superstitious villagers seem to believe that the island's ghost, the Countess, lured the girls to the cliffs, where they jumped to their deaths.
Julia begins to receive macabre clues from someone who is in hiding while conducting his own investigation. At the same time, Franz is shaken to the core when the truth is revealed piece by piece, and the clues lead to the mansion and his sadistic father. Franz's belief that his own behavior is inherited through generations of unspeakable evil is growing.
What really happened that night fifty years ago? And who is it that lurks in the shadows and watches Julia's smallest steps?
420 Pages 
Reviews:
"Beyond Fog Island is extremely captivating and exciting entertainment, which at the same time provides cold facts about the cult's inner building blocks, a reality most people do not want. Here, valuable knowledge is conveyed in a captivating way. There is probably more to say on the subject, so we hope for more novels about Fog Island and the Oswald family." - Ragnhild Oxhagen, Ölandsbladet. Magazine
"…resulting in a both exciting and well-written story while the series' long story with all the complex relationships between the characters involved continues in unexpected directions." – Kapprakt
"Lindstein continues to depict life in a cult in a believable way. She takes us on another lap without making it tedious, stiff and slow."  - Karin Carlsson, Bohusläningen
"Wow, Mariette really knows how to renew oneself and never bore her readers with predictable intrigues and plots."  - Ebbas.Bokhylla
"The author keeps the reader at the edge of their seat until the very last page and offers a resolution I didn't see coming" -Kaffeläsaren
"Brilliant, Suspenseful and well written!" - Jenniesboklista
Reviews on previous books in the series
"...a thriller with believable portrayals of characters and an intelligent story structure, many unexpected turns of events and high pulse from beginning to end. The author truly knows how to depict how a psychopath think and act, as well as the worlds reaction to it." - DAST Magazine
"Constant, creeping suspense that keeps the reader in an iron grip all the way to the end." -Gothenburg post (GP)
"A power play without comparison!" -Hallands Post (HP)
"Very few writers can so skilfully and nuanced describe manipulation and oppression." -Magazine Tara
"Psychological suspense at the very highest level." -Piteå news paper
"A horrifying page turner that is hard to put down. Five stars of five." -Swedish books
"Evocative with a creepy feeling that something horrible is going to happen. A real page-turner!" -Bohuslänningen, newspaper.
"For fans of the trilogy about ViaTerra Requiem on Fog Island is a must."  -Library service.
"Keeps the reader in an iron grip until the dramatic end." -Deckarlogg
"Suspenseful, unpredictable and impossible to put down. One of this years highlights and a must-read."
-Olivia´s deckarshelf
"A thriller at its best. Psychologically gripping. Remarkably well written. Five stars." - Eva's bookshelf
"Suspenseful, suggestive and well written, five stars of five." -Jenny´s booklist.
"It has the suspense of the best thrillers, the authenticity of the best biographies and the nerve of the best horror. Page-turner is an understatement." - Bokmums