Blue Blue Waves of Autumn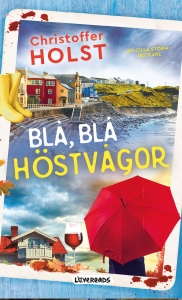 Rights sold
Denmark: Gyldendal, Flamingo
Estonia: Krimiraamat
Finland: WSOY
Germany: Heyne
The Netherlands: Stortebeeker
Norway: Cappelen Damm
Sweden: Lovereads
Russia: Eksmo
Nominations and Awards 
Shortlisted for this year's Feel-Good at the Swedish Adlibris Award 2019
Blue Blue Waves of Autumn is the second book in the series about Cilla Storm.
Fall has arrived and Cilla Storm works as a crime reporter for a Podcast. She's temporarily living with her best friend and often has wine with Rosie, her neighbor in Bullholmen. But her relationship with the charming police officer Adam is unclear. Why is he having such difficulty making up his mind?
At her new job Cilla is assigned the task to find out what happened to the socialite Laila Damm, who mysteriously disappeared without a trace in 1988. The tracks lead Cilla back into the archipelago in Stockholm. Meanwhile, the actress Ella Svensson arrives to Northern Ireland to take care of her parent's estate. She finds something there which will make her return to Sweden immediately.
Cilla and Ella cross paths on a cold and windy day in Bullholmen, and soon the island's dark secret will be revealed.
300  pages
Reviews: 
"Christoffer has his own tone and voice. He has an ability to portray such believable and interesting characters and he draws the environment so vivid it feels as if the reader is present within the story. It's exciting, flowing and a pure delight to read Blue, Blue Waves of Autumn" – Oliviasdeckarhylla, book blog
Reviews on the first book in the series: 
"Pure reader's joy straight through the whole book..." - I Hyllan, Book blog
"I want to make marks in it, share it and read it again. Talk about mood-booster." - Boktokig, Book blog,
"This is a really charming hybrid between suspense, romantic comedy and chic-lit." DAST magazine
"The perfect mix of suspense and Feel-good!" - Bettans Boktips, book blog
"Exciting, cozy and funny." - Romance in Swedish, book blog
"What a page turner! What a Feel-good! What a cosy crime novel!" - Evas bokhylla, book blog