Christoffer Holst
Romance with love for the characters, food and wine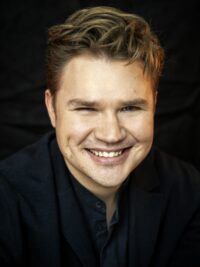 Rights sold
Denmark
Estonia
Germany
Lithuania
Norway
Sweden
The Netherlands
Russia
Christoffer Holst writes books about love. Sometimes they are feel-good novels and sometimes they are cozy-crime novels. Although their common denominator is always a focus on love and relationships and his writing style is quick and cinematic. There is also a theme of good wine and food in every book.
Christoffer started writing when he was a teenager and was strongly influenced by film and TV. At the age of thirteen his two biggest sources of inspiration were Alfred Hitchcock and Sex and the city (paradoxically...).
In 2015 he wrote his debut novel My Heart Will Go On - a story about two guys in Stockholm who fall in love with each other.  My Heart Will Go On was praised with very nice comments and reviews from its readers and book bloggers. The following year Christoffer's second novel was released: Mindfulness for losers - a feel-good novel about Hollywood stars, reality shows and about not fitting in.
Since Christoffer is also a big fan of horror (as mentioned: Alfred Hitchcock...) he wanted to try something different and in summer 2017 his first novel for Young Adults was released. Waiting for the Night to Arrive is a ghost story about forbidden love, abandoned houses and secrets.
In recent years Christoffer has moved his authorship into a new phase and has combined his passion for feel-good and suspense in his new project: The Cilla Storm Series. A suspenseful and charming crime series, in the style of Nora Roberts and Agatha Christie, about a curious gossip columnist who decides to start over in life and moves to the archipelago in Stockholm. Her new life contains a lot more bloody scenarios than she could have ever imagined...
A natural step for this foodie is also to write gastronomic feel-good  - the first one SUNSHINE AND PARMIGIANO is loved by the readers and a major bestseller in Sweden. Second book released April 2022 THE FORGOTTEN RECIPE BOOK
When Christoffer isn't writing books he enjoys drinking cold, oak barrel stored, Chardonnay, watching crappy TV, baking cheesecake, and fantasizing about new stories. He lives on Södermalm in Stockholm with his boyfriend Johan.
Bibliography
2022 - The Forgotten Recipe Book (den glömda kokboken), fiction
2021 - Green Blossoming Spring Winds (Gröna, sköna vår vindar), fiction
2020 - Cold White Winter Nights (Kalla vita vinternätter), fiction
2020 - Sunshine and Parmigiano (Solsken och Parmesan), fiction
2019 - Blue Blue Waves of Autumn (Blå, blå höstvågor), fiction
2019 - What Others Cannot See (Det andra inte ser), Young adult
2018 - Sweet Red Summer Dreams (Söta, röda sommardrömmar), fiction
2017 - The City Lights Will Brighten Our Night (För oss är natten ljus), fiction
2017 - He Waits for Darkness to Strike (Väntar tills natten kommer), Young Adult
2016 - Mindfulness for Losers (Mindfulness för losers), fiction
2015 - My Heart Will Go On (Mitt hjärta går på), fiction
Contact us for photo rights