Broken Bones, Shattered Hearts - a Hopeless Christmas (Brutna ben och brustna hjärtan - en alldeles omöjlig jul)
Maria Ernestam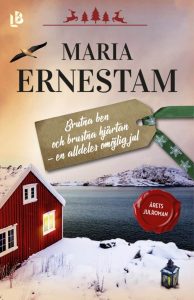 Rights sold
Sweden: LB Förlag
Nothing in life goes as planned for the 38-year old Lisbeth Cederström. She has settled down in Frillesås after living there for five years. She likes her house by the sea and her work as a teacher. She is single and right now that might be better than being in an unhappy relationship.Christmas is just around the corner and the headmaster at school has decided to cut down her hours as a gymnastic teacher, since a male ski star is taking over. This makes Lisbeth lie about her own skiing skills. When the headmaster finds out about her medals he gets the idea to give the school a new profile, a High school for skiing! Lisbeth and the new ski star should travel to the French alps to get special licenses which makes Lisbeth extremely nervous.
While Christmas should be a time spent with family, especially her parents and her pregnant sister, somehow it doesn't seem as tempting as before when her old boyfriend Harry also shows up on her doorstep.
Broken Bones and Shattered Hearts and a Hopeless Christmasis a humorous and warm novel about the expectations we make - on ourselves and others, and especially on Christmas. It's about loneliness and friendship, about lies and unconventional tricks to get what you want. And perhaps to get a chance at love. Most of all it's a novel about finding yourself – even when a busy Christmas is approaching.
Reviews
"Novel that smells of Christmas and fills you with laughter" - Amelia