The Last Rooms (De sista rummen)
Inger Frimansson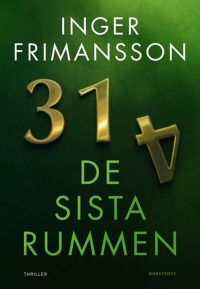 Rights sold
Sweden : Norstedts
A woman wakes up in a large and strange house. The first things on her mind are the children! Where are the children? They are so small, only four and six years old. Why are they not here with her? And how did she get to this peculiar and scary place?
Inger Frimansson is the master of the psychological thriller in April 2018 her new thriller THE LAST ROOMS will be released.
MORE INFO COMING SOON! 
TBA pages
Reviews on previous books by Inger: 
"The author leaves no unsolved questions and has the ability to weave it all together to a fascinating final. As always, it is a treat to read Frimansson; her language is so light and easy."
DAST Magazine
"Inger Frimansson is on the same track as Karin Fossum and she chooses to have the main focus on the psychological process and the characters. This doesn't stop the suspense and it gets really suspenseful when the kidnapped Evelina could be set free if her father, the banker, takes his life instead. Gripping, touching and emotional writing."
Upsala Nya Tidning
"According to me Inger Frimansson is Sweden's best psychological thriller author, and this book is no exception. Very suspenseful, wellwritten and in comparison to Läckberg, Jungstedt and Sten, it is not the least predictable!"
Bokus
"4,5 plus to Inger Frimansson. Swedens No1 psychological thriller writer."
Blog, Blommiga Barbro
"I get the chills. The book is so rich, and it doesn't bother me, which it sometimes does. Here it rather completes my opinion of a pageturner. If you find yourself tired of crime mysteries this summer, but still want suspense, then An Ax for Alice is a very god suggestion!"
Bloggbohemen
"Frimansson writes with an experienced and skilfull hand, she got the reader with her from beginning to end."
Borås Tidning
"Very exciting the whole way through, and also very intelligent entertainment. Scores 5 of 5."
ICA kuriren
"An impressive and skillfully narrated realistic story."
DN
"Frimansson in brilliant action!"
Värnamo Nyheter