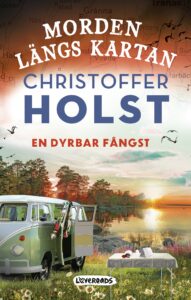 Rights sold
Denmark: Flamingo
Finland: WSOY
Estonia: Krimiraamat
Sweden: Lovereads
The career has been the whole of Louise Collins' life, but when the newspaper she started is shut down, she decides to enter her father's hotel empire - which is expanding and will establish itself in small tourist resorts.
Louise's sister Lina has not lived the same glamorous life. She is the result of an affair their father had and has never been accepted by the family. When the old man, who runs the shop next to Lina's delicatessen on Södermalm, dies it emerges that he also worked as a private detective. And Lina can't resist exploring his clients.
Louise arrives in Vadstena to open the new hotel at the same time as the town whispers about the girl who disappeared from the country road not far from there. Soon both Louise and Lina are drawn in...
A Deadly Catch is the first part in MAP OF MURDERS a cozy crime mystery series packed with charm and dark mysteries.
290 Pages
Reviews: 
"The plot develops into an easy-to-read mix of feel-good and slightly nerve-wracking detective stories in a quiet small-town environment where beautiful sunsets, good food and a friendly atmosphere that add color to everyday life, where crimes for personal gain have also crept in." BTJ Library Services, NO 11 , 2023