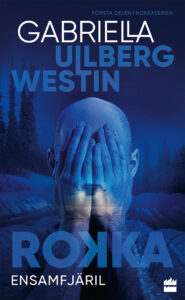 Rights sold
Bulgaria: ERA Publishers
Denmark: HarperCollins Nordic
Finland: HarperCollins Nordic
Germany: HarperCollins Germany
Norway: HarperCollins Nordic
Sweden: HarperCollins Nordic
The Czech Republic: Computer Media
It's Christmas Eve and a fierce snowstorm paralyzes Hudiksvall. Henna Pedersen is home with her two small children, waiting for Santa Claus to come. When she opens the door after the traditional knocking she is at once sure that something is wrong. The person behind the mask is not the father. In the afternoon, the police gets an alarm about Henna Pedersen, married to the best Swedish football player, she has been found murdered in the home.
The homecoming police Johan Rokka gets the investigation on his table. Rokka has been away from Hudiksvall for a couple of years, working in Stockholm. He had left his hometown in grief and despair after his girlfriend disappeared, blaming himself for not following her home properly the night she disappeared. He has a criminal background, kept as a well hidden secret.
After another cold-blooded murder occurs Johan Rokka senses that his job and past inevitably will intertwine. The deeper he dives into the disaster, the more confident he gets on two things; that Hanna Pedersen's husband, the famous football player is hiding something - and secondly, he never really knew his wife.
Lone Girl is the first book in the Hudiksvall series with Johan Rokka.
This is the first part in the Rokka series.
384 pages
Reviews
"Gabriella Ullberg-Westin is clearly talented building a plot that has that important feature of mystery and unknown factors. "
Gefle Dagblad
"A crime novel that sticks out"
Svenska Dagbladet.
"Really professional. The language is eloquent and vivid characters. "
Bibliotekstjänst
"Thrilling with erotic elements of obsession , revenge and loneliness."
Lottens bokblogg
"Hold on tight, because this takes off from page one"
Cattis boktips
"An incredibly thrilling book"
Jennifers hörna