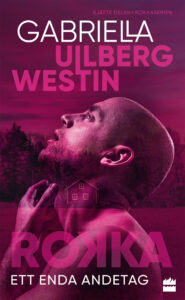 Rights sold
Finland: HarperCollins Nordic
Denmark: HarperCollins Nordic
Germany: HarperCollins Germany
Norway: HarperCollins Nordic
Sweden: HarperCollins Nordic
Nominations & Awards
Short listed at the Storytel Awards 2021
The whole world is facing a deadly threat. Johan Rokka and Janna Weissmann by the police in Hudiksvall are the only two who can stop it. 
A woman who has been brutally beaten arrives at the emergency room at the hospital in Hudiksvall. She refuses to say who she is and what has happened. It will soon come to show that the abuse isn't the only thing causing the woman her pain and severe symptoms…
Rokka and Janna work together at the police station. Their relationship is cold after Rokka finally gave up on the thought of them becoming something more than just colleagues. But when Janna becomes a victim for several attacks - Rokka can no longer stay out of it. And their lives are yet again intertwined emotionally. 
Pretty soon they find a connection between the attacks on Janna and the patient with the serious symptoms. A connection which traces reaches far away from the idyllic little town of Hudiksvall. 
This is the sixth part in the Rokka series.
300 pages
Reviews: 
"Gabriella Ullberg Westin still manage to keep her style of writing, she has in fact gotten even better throughout time. The book's a lot more concentrated. Even if there is still potential for improvement, she still writes entertaining and exciting crime-fiction better than most." Dast magazine, Nisse Scherman
"What's most impressive in my opinion is the intrigue. It's complex yet well structured and it must have taken plenty of research to put it together… She makes it believable that a global conspiracy like this could occur and take place in a small village like Hudiksvall. It's skillful!" – Käpprakt, book blog
"The first book I have read from this author and when I began, I just couldn't stop. An enchanting and sensational page-turner. 5 out of 5"- brijreads, book blog
"Heads up for a horror read- one of the best books I have read in this genre. 5 out of 5" – Bettan bokprataren, book blog
"I have listened to all of the books in the series and this one is just as great as the rest. Eerie enough was the resemblance of what we are experiencing right now – it's just as if the author could have predicted it in advance. Strongly recommend! 5 out of 5! " – Bettan Nykvist
"Another well written and exciting book by Gabriella. Eerie that its been released during this corona-time… Thank you for delightful hours where I've been completely stuck with this book!" – Carina Lindhe
"Frightening how topical it is" -Karolina Johansson
"Freakish that this was written before our real pandemic. Really a great book! "- Nina
"Such a page turner you can't put it aside." - Malin bokhyllar, book blog
"Gabriella Ullberg Westin writes in a type of captivating and thrilling manner that makes me as the reader not want to put it down. 5 out of 5 " – Erikas bokhylla, book blog
Reviews on the previous books in the series
"...the suspense rises with unexpected twists and the ending is truly surprising. A page turner."
- BTJ, Pia Lindestrand, no 9 2019
"A thought provoking and suspenseful, a times brutal, story about liberation and the longing for love that is shattered – all told with the authors personal tone."
– DAST Magazine
"The series about Johan Rokka has become one of my favorites out of the most recent crime novels, and I'm not tired of him yet! THE TRAITOR is a believable police crime novel of rank!"
– Villivonkanbooks, book blog
"I read it while completely out of breath, the tempo is high, there is a drive and a flow that makes the book impossible to put down"
- I hyllan, book blog
"The book gets a solid 5/5. It is like Gabriella's previous books, well-written, correct portrayals of the policemen and their work and incredibly thrilling. I envy all of you who haven't read it yet. Read, enjoy and sweat because this is a horrifying and really frightening and bloody story"
- Bokvurmen book blog
"Gabriella Ullberg Westin has done it again in this fourth book about Johan Rokka. It has a high tempo and it's both exciting and sad. It brings up what greed can do to people. It also treats the subject of how people handle grief and how love and desire sometimes can make you blind.
The author is so damn sharp and good at tying together different events in the story. If you haven't yet read the others in the series go do it! Gabriella is one of our amazing queens of crime." - Evas bokhylla, book blog
"It ended way to fast. 5/5" - Evastinasbokhylla, book blog
"It gave me chills. It's raw but in a good way. It never becomes to much. The authors attention for detail and how everything is tied together is excellent! 4,5 /5". - Villivonkansbooks, book blog
"Brilliant, fascinating and extremely suspenseful! 5/5 " - Jenniesboklista, book blog
"Ullberg Westin shows yet again her incredibly ability to combine suspense with fantastic environmental descriptions of nature, people and tragic destinies. I love the book about Johan Rokka. The story is well thought through. 5/5" Annas Deckartips, Book blog