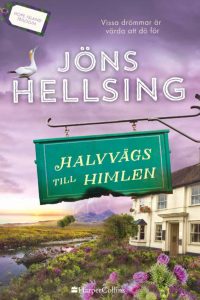 Rights sold
Denmark: HarperCollins Nordic
Finland: HarperCollins Nordic
Norway: HarperCollins Nordic
Sweden: HarperCollins Nordic
Once again we get to visit the windswept island Dóchas and its inhabitants. In this book the focus is on pub owner Heather. It is an exciting story about hope, revenge and believing in your dreams. Heather has risked it all to be able to renovate her pub. But one awful night just after the inauguration the whole thing burns down to the ground and her entire being falls apart. While in deep depression she is institutionalized to the same place where her mother committed suicide. Suspicion begins to rise about whether or not the fire was an accident or perhaps an arson. Who could have done it? When Heather starts to suspect how it's all interrelated she starts planning for a major revenge.
THE HOPE ISLAND Series is a romantic tale of freedom and of Scottish islanders' fight against the powers that be. A drama that came to Jöns Hellsing as he contemplated his own family history on inherited land in the Hebrides. The windswept environment makes a perfect setting for an adult saga of desire, insurmountable obstacles and fiery characters who triumph in the end.
The framework for the series is the Scottish Island and the oppressed islanders who rise up against the central power personified by a corrupt English lord. The main characters are John and Heather.
350 pages
Reviews:
"Halfway to Heaven is an entertaining novel with dark undertones; compared to the debut (first book in the series) this one has a larger depth and more problematized. Hellsing's language is easy to read and driven while it is still good at depicting dark events. All in all it is well written and an exciting book that shows an interesting development to this authorship."
-      BTJ no 21, 2018 by Rickard Lindholm
"I enjoyed the first book in the series, but this one is even better... I love the language in the book. On the back it says that this second part is a flaming drama about hope, revenge and daring to believe in ones dreams. I agree! The book is so good! Warmly recommend it! 5/5" Lollos Bokhorna
"Jöns Hellsing tells an exciting and heartwarming story that has a time stamp and that engages the reader in that time's social cause. It's about a group of people who refuses to give up, who are proud of their history and dare to stand up to what they believe in... this book makes me long for Skottland and Whisky. A marvelous book!" - Boksann
"A really good and well written book.  A bit darker, deeper and slightly more exciting than the first one. 4/5" Millahs Bookpage
"Charming, strong and well written. 4/5" - Jennies Boklista