Ingemar's Awakening (Ingemar Modigs uppvaknande)
Mikael Bergstrand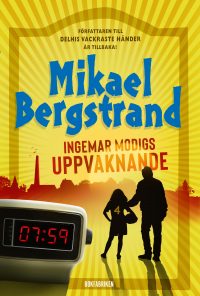 Rights sold
Denmark: Modtryk
Finland: Atena
Germany: S. Fischer Verlage
Norway: Strawberry Publishing
Sweden: Bokfabriken
Filmrights: Mint Film
WARMTH, HUMOR and LIFE WISDOM
Ingemar Modig wakes up soaking in his own sweat every single morning, just before the alarm clock switches on. Unless he manages to shut it off before it starts ringing someone will die. The obsessions have taken over his life. But then he meets Dalia, an eleven year old girl from the war in Syria.
Dalia is not just terribly stubborn and fierce at curse words in Swedish. She is also extremely good at soccer and she won't take no for an answer. Together the two friends search for a way beyond haunting memories and cultural clashes.
What they don't know is that the post employed local reporter Ludvig Nilsson is luring with his evil plans. The everyday life in the small city of Borstafors will be nothing but a memory.
Ingemar's Awakening is an equally sad and humorous novel about loneliness, friendship and courage.
320 pages
Reviews 
"Human warmth shines a light over Bergstrand's new novel. OCD and hate crime are two of the parts of the story INGEMAR'S AWAKENING and we're both entertained and emotional."  - Inger Melin, Kristianstadsbladet
"A book on how we humans meet one another, written beautifully with tongue-in-cheek while keeping the serious tone." - Gunilla Bergdahl, BTJ
Reader's comments:
"Bergstrand has written a warm and almost cosy story focusing on friendship, tolerance and openness."   - Bloggbohemen
"…a current, interesting and entertaining novel. It is both sad and humorous - a true page turner."  - Bokpool
"Entertaining, captivating and moving!" - Jennies Boklista