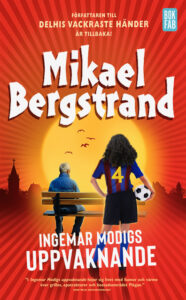 Rights sold
Denmark: Modtryk
Finland: Atena
Germany: S. Fischer Verlage
Norway: Anemone, Strawberry Publishing
Sweden: Bokfabriken
Filmrights: Mint Film
Nominations and Awards
Shortlisted for Best Audiobook in the Novel Category at the Mofibo Awards 2020 - Denmark
WARMTH, HUMOR and LIFE WISDOM
Ingemar Modig wakes up soaking in his own sweat every single morning, just before the alarm clock goes off. Unless he manages to shut it off before it starts ringing someone will die. This obsession has taken over his life. But then he meets Dalia, an eleven year old refugee from the war in Syria.
Dalia is not only terribly stubborn and who curses fiercely in Swedish, she is also extremely good at soccer and is someone who won't take no for an answer. Together the two friends search for a way beyond haunting memories and cultural clashes.
What they don't suspect, however, is that the local newspaper reporter Ludvig Nilsson is lurking with his evil plans. Everyday life in the small town of Borstafors will soon become nothing but a memory.
Ingemar's Awakening is in equal parts a sad yet humorous novel about loneliness, friendship and courage. It's absorbing, suspenseful and heart warming.
320 pages
Reviews 
"Human warmth shines a light over Bergstrand's new novel. OCD and hate crime are two of the parts of the story INGEMAR'S AWAKENING and we're both entertained and emotional."  - Inger Melin, Kristianstadsbladet
"A book on how we humans meet one another, written beautifully with tongue-in-cheek while keeping the serious tone." - Gunilla Bergdahl, BTJ
Reader's comments:
"Bergstrand has written a warm and almost cosy story focusing on friendship, tolerance and openness."   - Bloggbohemen
"…a current, interesting and entertaining novel. It is both sad and humorous - a true page turner."  - Bokpool
"Entertaining, captivating and moving!" - Jennies Boklista
Norwegian reviews: 
"Ingemar Modig got to move forward in the reading queue and he deserved it.
The first few pages I was a little hesitant and wondering what the book would give me. We meet a man with great mental challenges such as severe anxiety and he uses obsessions to master his days at all. Then he meets Dalia, who is from Syria. And suddenly he is faced with new challenges.
This is such a reading experience that makes me believe that it is reality. I think it's real people it's about.  I cheer for Ingemar and I cheer for Dalia and I wipe tears when they cry and I laugh when they laugh and I swear when Dalia swears.
It is also thought-provoking that the author himself writes about his challenges with anxiety and that he himself has obsessions and that he uses a lot of himself when he writes.
Bergstrand is an author I want to read more of. I always feel it is more poignant to read books where much is self-experienced by the author because it often makes the story more real and close." – Lillasjel, blog Norway
"This is a cozy novel, about friendship between generations, about the hope that things will turn out good, even when everything seems dark." – Pervoluto, blog Norway