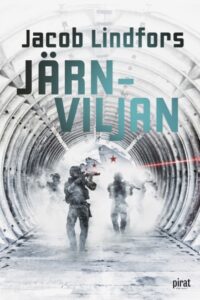 Rights sold
Sweden: Piratförlaget
Film rights: Nevis productions
Sweden and Russia are in an armed conflict. To find a peaceful way out of the crisis, Swedish elite soldier Mattias Kassian agrees to help the Russians crush a network of international drug smugglers. It's a quest that will take him from Moscow to Africa and the Arabian Peninsula.
But how voluntary is Mattias' cooperation with Russia? Upset after years of fighting and losses, his friends in SOG, the Special Operations Group, begin planning to free him from the Russians, by force if necessary.
However, there is another threat. From their hideouts in the depths of Norrland, the terror league The Winter Pack recruits new members for a final battle against the Armed Forces. Sweden is weakened. Isn't it time to strike?
The Iron Will is the third part in Jacob Lindfors' hit series about special forces operator Mattias Kassian's fight against the Northern terrorist network The Winter Pack.
409 pages
Reviews
"It's not a funny world Jacob Lindfors paints, and nasty real. With that, there is no room for resignation either. Instead, it will be terribly exciting and strangely quite encouraging to read. It is possible to influence development, the author notes." - Lotta Olsson, DN Magazine
"Jacob has really succeeded in capturing the times we are in, but where the Winter Pack is also ravaging and making life in Sweden more difficult. Jacob writes fluently with fine descriptions of people and interesting environments. I can feel the heat and the smell of the places he is. He once again creates a nerve-wracking read and I look forward to reading future books about Mattias Kassian and his colleagues and seeing how they develop and how they cope with the fight against the Winter Pack. " - Erikhultgrens.se
"As before, it is really well written and admirable is the teeming and well-researched wealth of detail about places around the world, objects, events and everything else. This is also a writer who is not afraid to tackle the big and imaginative; Mattias even gets to meet Putin himself at his gigantic summer residence. It is extremely violent in parts, but it is still always the people who are at the center, not least what violent conflicts can do to people. … It will be exciting to see how he moves forward with new parts of the series." - Kapprakt
"I admire the author for writing about this difficult subject in times like these...Well researched... A book series everyone should read!" - @systrarnaboktokiga
"First of all, Jacob Lindfors is one of the nicest authors in Sweden today, He is also one of the best. That is at least my humble opinion. Järnviljan (The Iron will) is the third book about Mattias Kassian a Swedish special forces soldier who has had it tough in life. Orphaned in Rwanda and adopted by a single parent in Sweden. Then military service where we get to follow his fight against "Vinterpacket" In this book he makes a deal with a part of the russian army to fight against some international drugsmugglers, but can he trust his russian allies? Can the swedish army trust him after spending more than six month with the russians? Is the "Vinterpack" dead? So many questions, thankfully in this book we get a lot of answers. Buy it, read it and enjoy like I did. Lindfors has written maybe his best book yet and it was very hard to put down. It actually took me only a few hours to read it and I had to force myself to do it in two sessions. I sincerely hope that we will get more adventures with Kassian and his friends, it feels like a little cliffhanger in the end. I don't think the author has traveled around the globe doing research on site but it feels like it, he has created some fantastic characters and he is not squeamish when it comes to who will die or not. The attention to detail and the action scenes are great and the underlying story is very interesting. I strongly recommend everyone to try this series and start at the beginning." - @Abibliofob , book blog
"This is exciting, it's exciting. Once you start reading, you won't put the books down. So I'm seriously jealous of you who haven't read this book series" - @doftochsmak, bookblog