Broken Eggs and Broken Hearts – a Completely Impossible Easter (Knäckta ägg och krossade hjärtan - en alldeles omöjlig påsk)
Maria Ernestam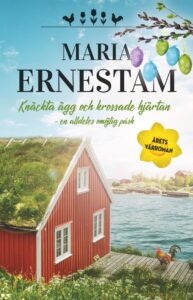 Rights sold
Sweden: LB Förlag
Broken Eggs and Broken Hearts – a Completely Impossible Easter  is a humorous, charming and subtle story about human relations, deceit and never giving up. It is a tale about life being overthrown from one day to another and the necessity of shaping your own destiny with any method required. It describes tricks and mischief, laughter and tears, loneliness and the bumpy road to understanding who your true friends are and who loves you – for real.
Last Christmas the future looked bright for Lisbeth Cederström in Frillesås, a small village on the Swedish west coast. She was happy as a teacher and in her little house by the sea and enjoyed a new love in her life. And she had kept her promise never to allow herself to be controlled by others.
But happiness is a hard thing to keep. When Easter approaches, a new couple moves into the house next door. Soon the quarrels begin regarding plot boundaries, visits and a rooster cuckooing at night while the neighbours present a different reality on social media. At school, malicious rumors begin to circulate about Lisbeth having received money she had no right to from an old partner's company and that she is unsuited as a substitute headmaster. On top of that her boyfriend's loyalty fails, due to a demanding exwife, which makes the crisis complete. What happens then, when an old unrequited love appears with good advice, support and possibly a desire for more?
Reviews on the previous book in the series
"A mulled wine scented story that attracts much laughter." - Amelia
"Maria Ernestam gets all the details right, her story both subtle and entertaining. About finally, in the middle of life, making your own decision on how to celebrate Christmas. Beautifully written on friendship, seasoned with little pieces of wisdom about life." - Kerstin Särneö, Tara Magazine
"…it is funny that we are invited into academic environments in a story where the obvious means of solving problems is by using lies." - Lotta Olsson, DN
"A well written, charming and hilarious story with both familiar and unbelievable situations. […] Ernestam has the ability to write everyday narratives focusing on human behavior and people who do not hesitate to admit that we do things all the time that we do not like only because it is expected of us or because we do not have the strength to take the fight." - Agneta Norrgård, literary critic
"This is just the type of novel you read in the darkness of the winter night when you want to feel good without any screens and noises...Maria Ernestam knows her work as an author" - Lena Köster, UNT
"A warm and wise story... Maria Ernestam writes nicely about loneliness, about how tricky being a human can be at times, but of course makes sure that the ending is a very, merry Christmas." - Feminina
"…loved this book. 5/5" (blogg Systrarna boktokiga)
"…a warm and entertaining story about a woman who lets people bully her but gets tired of always being the one to adapt. Lisbeth's adventures attract laughters but the story also makes you reflect on life on a deeper level." - Johannas Deckarhörna, book blog