The Consultant Who Refused to Swim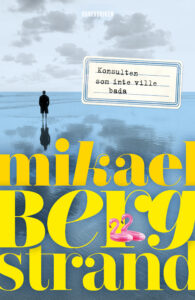 Rights sold
Sweden: Bokfabriken
Kenneth V Andersson's life is fabulous. As a successful consultant, he has made a fortune in rationalizing away employees at various companies. At home in the luxury apartment, he enjoys expensive dinners, fine wines and movie nights in front of an exclusive big-screen together with his ten-year-younger partner. Kenneth is a master at opting out of things. For convenience, he has chosen not to marry, have children and associate with other people.
But then one Friday night everything falls apart. His girlfriend breaks up with him and his life collapses. Suddenly, he realizes how brutally lonely he is. After a couple of unsuccessful dating attempts, he goes out to the summer house in Baskemölla on Österlen to lick his wounds and dutifully visits his father at a nursing home in nearby Simrishamn.
When the grumpy and somewhat senile father reveals that a family secret is the cause of the mother's disappearance almost forty years ago, Kenneth begins a strange journey, where his path is crossed by the mysterious Elizabeth and her odd family. In his search for what really happened to his mother, his past is revealed piece by piece, and when the truth is revealed, Kenneth is forced to confront both his childhood and his feelings for Elizabeth and her father.
The Consultant That Refused to Swim is a novel about finding oneself, told with the humor and warmth that has become Mikael Bergstrand's hallmark.
300 pages
Reviews 
"Humoristic with lots and lots of warmth"- Jenny Alversjö, TV4 , tv review
"Sweet and hopeful story" – Torun Görtz, Ystad Allehanda, magazine
"Charming, funny and tender" - BTJ library service
"His best book so far. Humor, seriousness and warmth all mixed together wonderfully." – Dillbergs book shop, Kalmar
Instagram:
"I'm really impressed how well written this novel is and it's funny dialogue and smart language. I laughed out loud several times." - @blandböckerochtekoppar
"A very good book that made me both happy and teary-eyed. Phenomenal, vivid descriptions of surroundings and dialogues that made me giggle." - @bokmalen
"The story about Kenneth gives you a little bit of everything! Believable characters, wonderful environments on the Swedish East coast of Österlen and quick-witted dialogue made this a true page turner." -@Colourfull and creative design
"Mikael Bergstrand has a very special way to capture me as a reader. His texts fill a hole in my heart through the vulnerability and emotions within his characters. It's impossible to put the book down!" -@kaisajo
"Written with warmth and humor and I'm both laughing and shedding tears." @miasbok