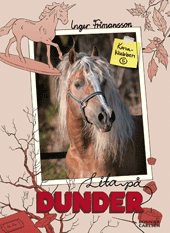 Rights sold
Sweden: Bonnier Carlsen
The drama is tense when the fifth title in the page-turner series for all middle age horse lovers sets off.
One early morning riding instructor Susanna's cell phone rings. Something has startled the horses off in the grove. The fence breaks and the small mare Miranda gets out. In panic she flees down to the lake and out on the thin ice. The ice breaks. Miranda is struggling for her life in the cold black water. Will they be able to save her before it is too late?
There are a lot of things going on in the stable this winter. Good as well as bad things. Susanna can finally afford to by the SUV needed for the stable work. But apparently there are others who want to own it as well… The members of the Unusual Names Club set out to bust the thieves!
The club gets another member. Karen. She wants nothing more than to start riding classes. But her dad says no. It is too dangerous. Because, how is a horse to understand that it has to be careful with a girl in a wheelchair?
And then one night, Frossan's mom has something exciting to tell her.