Eye for an Eye, Paw for a Paw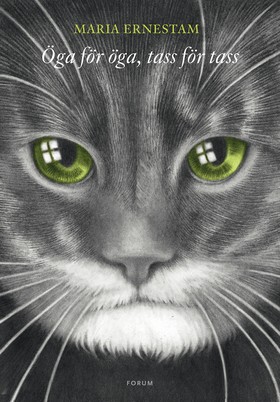 Rights sold
France: Gaia Editions
Sweden: Forum, Pocketförlaget
Norway: Hjemmet
Germany: Btb Verlag
Sara and Björn have fulfilled a dream, they have finally moved out to the countryside. They have fallen in love with a house that needs to be taken care of and at last they are out of the tiny city apartment. Now they are looking forward to get rid of narrow-minded and curious neighbors.
Moving with them towards this new freedom is their loved cat Mishka. Mishka is the first one to eagerly explore the almost heavenly neglected garden which is part of  their new home in southern Sweden. The couple looks forward to restore the idyll that once existed. But quickly their dream is darkened of an unexpected problem. Their new neighbors, Lars and Agneta,  first seem to be a friendly couple, their lawn is mowed to perfection, but they also have a cat, a very obstinate male, Alexander. And Alexander owns the area, this is his land and he quickly makes Mishka's life a living hell. Her suffering is soon also Sara's and Björn's problem. Something has to be done.
Lars and Agneta welcome the new arrivals directly and invite them to dinner. Fine then, but something is bothering Sara. They interfere with things they should not, private stuff, and shortly Sara feels that she once again is  back in a world of intrusive neighbors. But with the difference that this time the neighbors are acting mysterious too. Solving the problem of the ruthless male cat by talking, does not seem possible. And the situation is not helped by the scary story the neighbors tell them - a really nasty story about their newfound home's previous owner.
The cat, my neighbors and I is a short novel with suspense, mystery and an ingenious twists, in the typcial Maria Ernestam style. The story was first published in Sweden in the short novel collection Drama Queens. In Germany, btb Verlag  has published this novel on the hardcover list  with charming  cat illustrations.
128 pages, with illustrations
Reviews
"Maria Ernestam has the ability and talent to mix humor and darkness, everything is told with a hint of magic."
Parallèlles, France

"The author combines a dark comedy with suspense in a very talented way. And the book is as humoristic to read as it is surprising towards the end!"
Version Femina, France

"A story that might seem innocent but really turns out to be cruel and delicate."
Le Dauphiné Libéré, France
"An exquisite novel... perfectly horrific."
Avantages, France
"All of Maria Ernestam's novels are a joy to read... In book after book she puts herself on the map of Swedish quality litterature. The really good quality litterature."
Voyage dans les lettres nordiques, France
"She tells her story on a beautiful language, good portrayals and lots of suspense that is never predictable. Maria Ernestam is a new aquintance for me, but now I will read her novels, this short novel gave me a taste for more."
Kristina Simars blog