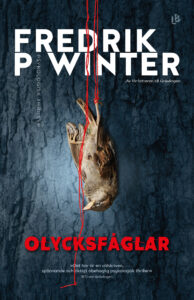 Rights sold
Germany: HarperCollins
Netherlands: AW Bruna
Sweden: LB Förlag
There are secrets here. Soon they will be revealed.
A girl goes missing in the forests at the foot of the hydroplant in Trollhättan, Sweden. During the search, her red windbreaker is found in the forest, as if she is sitting by the roots of a tree waiting to be found. But instead of the missing girl the jacket is wrapped around the skeletal remains of another, unknown, child.
For 25 years, four friends have hidden a terrible accident that took the life of one of their friends. Instead of telling the truth, they lied that she had drowned in the strong currents of Göta Älv. Ever since then, the lie has slowly consumed them and in different ways ruined what otherwise looked like successful lives.
Now someone has taken the daughter of one of them, a successful true crime writer, and threatens to reveal the truth if they don't pay a ransom. The amount is petty, all of them should have the money, but none of them can pay regardless that the truth would cost them everything. None but the four unlucky creatures know what happened that dark day 25 years ago. One of them must have the girl. But who, and why?
288 pages
Reviews: 
"A creepy and sometimes unpleasant journey into secrets and twisted characters. Everything hidden in the romantic image of a sleeping small town." - Christina Erikson, Author
"Karma is a well written and extremely suspenseful thriller that feels realistic." - BTJ library services no 16
"A suspenseful and an exciting read... both books by Fredrik P Winter have intelligent story structures...I enjoyed this even more than the debut." - Kapprakt, book blog
"A book that really appealed to me. The plot offers unexpected twists, surprises and is well-written. The suspense kept creeping up on me throughout the book, a book that made me never want to stop reading." - systrarnaboktokig, book blog
"A creeping almost unpleasant feeling emerges towards the unexpected end. A multi-faceted story with characters that are not what you first think. Bords of Misfortune is very well written with a fast pace. It is intense, dark and unexpected. It is strong, twisted and addictive. Can not stop reading." -@i_min_bokhylla , book blog
"Last year's The Badger scared me through its unknown and unpredictable threat. The tension built up because we did not know what would happen next. We certainly do not do that in Karma either, but here it is the human psyche that scares. That we do not know what is hidden within those we meet daily, perhaps even our closest friends. Or what they are capable of.
Fredrik P Winter is a master at writing psychological suspense! And on writing page-turners; it was impossible to stop reading!!" - @Boksann , book blog
"Wow, how pleasantly surprised I was by Karma. The plot is well written and detailed, and the characters are twisted and strange, which reinforces the book's plot in a well thought out way. Fredrik P. Winter has created a psychological thriller where nothing is as imagined. Skilfully written with well-thought-out details and several unexpected twists. I was completely immersed in the story, and I also bit my nails with nervousness about the characters' thoughts and how everyone behaved. It was like watching a twisted and special film where all the characters have their special peculiarities that no one understands.
Fredrik P. Winter writes in a descriptive and clear way that creates an even greater curiosity about the characters, because every detail of the book felt important. What the reader thinks he knows about a character or event changes the further into the book you read, and there were several moments when I really did not understand how this particular story would end." - Idasrecensioner, book blog
"I like reading books about unsympathetic characters and in a thriller like this I just think it contributes to the reading experience that there is no one you can trust. This book is exactly about who can be trusted. A dark secret threatens to come to come to light and no one knows who revealed the secret." - Bokhusflickan, book blog
"Just as the author's previous book THE BADGER, this is a mix between crime and thriller. The focus is not on the crime investigation rather about the four main character's lives and how they were affected by how the dark secret they all kept for 25 years. The author really puts an emphasis on the human psyche and how different people tackle setbacks. There is something in the way the author builds up the characters and environments that really appeals to me. He creates a creeping suspense and an intrigue that moves in a downward spiral towards an end you as a reader realize won't be a happy one, the question is simply in what way and for whom."  - Håkans hylla, book blog
"Karma is a different type of book, different in structure and character descriptions and how the story unfolds. You get to know each of the four main characters little by little so it almost takes until the very end before I know them well which is a risky road for the author to take - but he succeeds. He has created a suspenseful page turner." – Boken och jag, book blog