Birds of Misfortune (Olycksfåglar)
Fredrik P Winter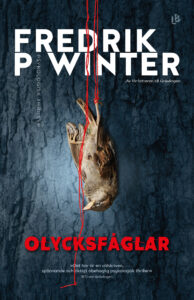 Rights sold
Germany: HarperCollins
Netherlands: AW Bruna
Sweden: LB Förlag
There are secrets here. Soon they will be revealed.
A girl goes missing in the forests at the foot of the hydroplant in Trollhättan, Sweden. During the search, her red windbreaker is found in the forest, as if she is sitting by the roots of a tree waiting to be found. But instead of the missing girl the jacket is wrapped around the skeletal remains of another, unknown, child.
For 25 years, four friends have hidden a terrible accident that took the life of one of their friends. Instead of telling the truth, they lied that she had drowned in the strong currents of Göta Älv. Ever since then, the lie has slowly consumed them and in different ways ruined what otherwise looked like successful lives.
Now someone has taken the daughter of one of them, a successful true crime writer, and threatens to reveal the truth if they don't pay a ransom. The amount is petty, all of them should have the money, but none of them can pay regardless that the truth would cost them everything. None but the four unlucky creatures know what happened that dark day 25 years ago. One of them must have the girl. But who, and why?
288 pages
Reviews: 
"A creepy and sometimes unpleasant journey into secrets and twisted characters. Everything hidden in the romantic image of a sleeping small town." - Christina Erikson, Author
"Birds of Misfortune is a well written and extremely suspenseful thriller that feels realistic." - BTJ library services no 16
"A suspenseful and an exciting read... both books by Fredrik P Winter have intelligent story structures...I enjoyed this even more than the debut." - Kapprakt, book blog
Reviews on previous books: 
"Fredrik P Winter has written a debut with a slowly creeping horror feeling. It begins as a crime novel with a Scandi-noir touch, but after a while the creeping horror elements becomes even more apparent and the book is hard to put down." -Glenn Petersen, Recommended Fantasy – at the Sci-fi Bookshop
"The suspense rises when the plot moves closer to the date of November the 6th. Will a new deed occur? The author elegantly pilots the reader towards the inevitable ending. Fredrik P Winter is one of the skillful debutants I'd be happy to read more from." - Nils Scherman, Swedish Crime Academy
"365 pages of pure joy. The best book I've read. Like a mix between Twin Peaks and The Shining. I hope they make this into a movie!" – Familjekedjan, book blog
"The Badger is Fredrik P Winter's debut and they promised a psychological thriller that definitely delivers suspense! The mystique and discomfort are covering the whole story like a heavy and dirty blanket and I am stuck immediately and stay there until the end. Claustrophobic is just the beginning. I like how the author mixes in the police investigation without making it into a police crime novel. The author flirts with both horror and internationally acclaimed thrillers on serial killers. And he definitely shows a great strength in storytelling." - Johannas Deckarhörna, book blog
"Exciting from page 1. Couldn't put it down. World class!" – Marcus Olausson, author
"An extremely well written book to get stuck in. I read the end while completely missing the fact that the fire alarm went off in the empty store where I was working in. After reading you will never want to move to a house with a basement." – I min bokhylla, book blog
"I'm so thankful to not have a basement in my house. When I first saw that the book was going to contain supernatural elements I was a bit scared that they would go overboard but that really didn't occur. Instead the book is creepy, it crawls under your skin and gives you chills. You don't know whether you dare to keep reading or if its best to put the book down." – bokraden, book blog
"Psychological horror that won't leave anyone unaffected. 5 out of 5." - Bettan bokprataren, book blog
"Wow – page turner is the word! The suspense builds up and for every chapter the creepiness increases. It really got under my skin. Insanely good!" – Bokhyllaniskuggan, book blog
"Fascinating, suspenseful & strong!" – Jennies boklista, book blog
"This book literally crawls beneath the skin and sticks in your mind long after finishing reading it. 5 out of 5!" - bok_ann, book blog
"This book had me hooked from the start and was captivating throughout the whole ride! Chilling and worth a read." – bokslott, book blog