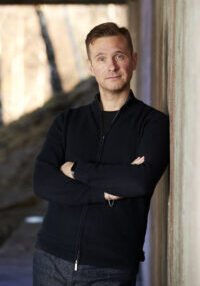 Rights sold
Czech Republic
Germany
Greece
Korea
Netherlands
Russia
Poland
Sweden
Fredrik Persson Winter was born in Trollhättan and now lives in Gothenburg on the west coast in Sweden. He is an acclaimed lawyer specializing in IP (intellectual property rights) and a partner in his law firm. When he's not suited up and working as a lawyer he enjoys the usual things as spending time with family and friends, movies, traveling and reading. He also has the more unusual hobby of gliding and of course he spends time on his passion for writing. He is a lawyer at day and author at night.
Fredrik P Winter writes psychological thrillers set in the publishing industry. In 2020 his thriller The Badger was released. The book has received high praise from the readers and sold to several foreign markets.
Fredrik Persson Winter is one of the founders of the podcast "Fantastik Podd" which specializes in the Sci-fi, fantasy and horror genre in Sweden and Finland and in which they talk about how it is to write within the genre in Swedish. He also has a blog bakomtangenterna.wordpress.com on which he promotes his writing. He has previously released two books for young adults at Bonnier Carlsen. You may not know, but death in fact doesn't play hand ball (2012) &  And Bingo is only for lost souls (2013).
In fall 2021 his novel Karma was released in Sweden. A suspenseful thriller in the style of Big Little Lies meets the coming of age classic movie Stand by Me.
Author's Instagram: 
Author's website:
bakomtangenterna.wordpress.com
Bibliography
2021 - Karma (Olycksfåglar), thriller
2020 – The Badger (Grävlingen), thriller
Bibliography Young Adult: 
2013 - And Bingo is only for Lost Souls (Och bingo är bara för de förlorade), YA
2012 - You may not know, but death in fact doesn't play hand ball – (Du kanske inte vet det, men döden spelar faktiskt inte handboll), YA
Author Photo: Lars Ardarve
Contact us for photo rights