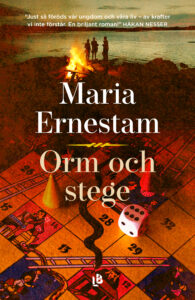 Rights sold
Sweden: LB Förlag
And there it was again, the image of a wounded body on the shore with seagulls screaming around its head. What happened on that island? Did I even want to know?
A group of young people meet every summer in Vallerås. Since childhood they have been welded together in a friendship they believe is invincible.
But the summer of 1978 is different. The local congregation engages a new pastor who enchants them, and the atmosphere deteriorates, things are kept secret and old injustices resurface. It all culminates in a tragedy out by the sea.
Forty years later another person in the old gang dies. He leaves behind a wish to be buried in Vallerås and the friends from back then gather again. But their meeting is tense and Ingrid, who never forgot what she experienced that summer, stays in order to reinvestigate the past. Was it all an accident? Why did their friendship end? Who lied to whom? And were they alone on the island that night?
Snakes and Ladders is a thriller exploring how far we are capable of going in order to protect the ones we love.
348 Pages
Reviews 
"Just like that our youth and our lives are devastated – by forces we do not understand. A brilliant novel!"
-Håkan Nesser, internationally acclaimed Swedish author
"She captivates the reader with a plot that unfolds at a low-intensity pace. There is a lot that happens between the lines and as a reader you become completely emotionally involved. She makes everything that happens in the book feel real.
Maria Ernestam is a master at creating environments. Both the evocative and the tragic, as well as the way she brings the places to life. I can still see them clearly in front of me.
The story engages through the intrigue with the charismatic and manipulative priest. It creates many thoughts." - Boktokig, book blog
"I really like Maria Ernestam's way of writing and enjoy the beautiful and precise language, as well as the ability to gradually create a mood … the contrast between the present-day November darkness and the summers of youth is effective. 'Snakes and ladders' is, as Håkan Nesser blurbs on the cover, a brilliant novel."
Swedish booksite Enligt O
"I loved Maria Ernestam's first book "Caipirinha with Death" when it was released 17 years ago. Already by the author's name I understood that this ("Snakes and ladders") was not an ordinary suspense novel. It is just as much a story about childhood, friendship, love, and sorrow that goes right into my heart."
Upsala Nya Tidning
"The author shows how relations, places, experiences and existential brooding in youth shape us and can return, with force, later in life. The language is beautiful and poetic without losing drive because of it. The magic of the friends' summers and their strong fellowship is finely portrayed …"
BTJ Library services  nr 16/22
"It is always an honor and joy to be invited into Maria Ernestam's very own universe. Just like her previous books, "Snakes and Ladders" is a staggering winding journey, lined with elaborate language with unpredictable twists and surprises - and I love it! … an unprecedented reading experience …"
Agneta Norrgård, Swedish Radio P4, Augustprize ambassador, Swedish SVT1 Go'kväll
"This novel should be used in high school and various writing courses as an example of a linguistically perfect novel. It is always something of a delight to read Maria Ernestam's novels - whatever she writes about."
Swedish booksite bibbloagneta