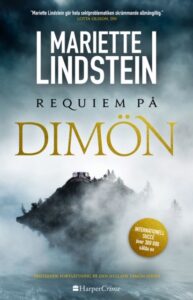 Rights sold
Denmark: Gyldendal
Germany: Blanvalet
Poland: Bukowy Las
Sweden: HarperCollins Nordic
Two years have passed since the charismatic leader Franz Oswald sacrificed his own son to save a young woman, Julia Frisk, which caused him to suffer a stroke. The recovery has been slow and painful but now he is back and more determined than ever before. If only it wasn't for the unwanted emotions he is suffering from...
Julia is working as an editorial assistant at a fashion magazine and is looking to move up. Then her big chance shows up. The magazine wants an interview with Franz Oswald – and he refuses to do it with anyone else than Julia.
Everyone tells her not do go through with the interview and see Franz. But once he mentions his plans to return to Fog island and arrange an experiment that he calls "Requiem" her curiosity gets in the way. And as per usual when Franz Oswald is involved everything spins out of control...
496 Pages 
REQUIEM ON FOG ISLAND  treats the reactions within a group of people who go through isolation while also being put under extreme stress. It's a book based on the authors own experiences in a cult.
"...a thriller with believable portrayals of characters and an intelligent story structure, many unexpected turns of events and high pulse from beginning to end. The author truly knows how to depict how a psychopath think and act, as well as the worlds reaction to it." - DAST Magazine
"Constant, creeping suspense that keeps the reader in an iron grip all the way to the end." -Gothenburg post (GP)
"A power play without comparison!" -Hallands Post (HP)
"Very few writers can so skilfully and nuanced describe manipulation and oppression." -Magazine Tara
"Psychological suspense at the very highest level." -Piteå news paper
"A horrifying page turner that is hard to put down. Five stars of five." -Swedish books
"Evocative with a creepy feeling that something horrible is going to happen. A real page-turner!" -Bohuslänningen, newspaper.
"For fans of the trilogy about ViaTerra Requiem on Fog Island is a must."  -Library service.
"Keeps the reader in an iron grip until the dramatic end." -Deckarlogg
"Suspenseful, unpredictable and impossible to put down. One of this years highlights and a must-read."
-Olivia´s deckarshelf
"A thriller at its best. Psychologically gripping. Remarkably well written. Five stars." - Eva's bookshelf
"Suspenseful, suggestive and well written, five stars of five." -Jenny´s booklist.
"It has the suspense of the best thrillers, the authenticity of the best biographies and the nerve of the best horror. Page-turner is an understatement." - Bokmums