The Cult on Fog Island (Sekten på Dimön)
Mariette Lindstein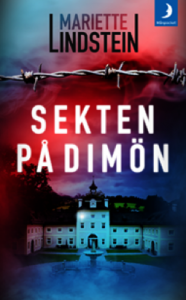 Rights sold
Germany: Blanvalet
Norway: Gyldendal
Sweden: Forum (previously Mörkesdottirs Förlag)
Poland: Bukowy Las
Netherlands: AW Bruna
UK: HarperCollins HQ
Canada: HarperCollins HQ
Australia: HarperCollins HQ
Ireland:HarperCollins HQ
Prizes and Awards
Crimetime Specsaver's debutant prize
in 2016 for "The Cult on Fog Island"
Sofia Bauman has just taken her university exam and ended a troublesome relationship with a boyfriend when she attends a lecture about a New Age movement called ViaTerra. Its leader is Franz Oswald, young, good-looking, urbane, and mesmerizing. His message is that stress, poisons in our food and a world out of balance are wrecking humanity. Sofia agrees. Everything Oswald says is indisputable. ViaTerra has practical, proven methods of helping people. "We walk the way of the earth" is Via Terra's motto, but there is also a spiritual component that draws Sofia in.  She also feels a sort of animal attraction to Oswald who likewise seems affected by her in a way she cannot put her finger on.   
Intrigued by one another, Oswald invites Sofia to do the program. ViaTerra lies on Fog Island in Sweden's west coast archipelago. Sofia finds the program to be a revelation for her. She eats organic food, disconnects from the world's noise and reconnects with nature on the island. Spiritual exercises from the Via Terra program give her an increased awareness of her true self. She is spellbound by the beautiful coastline on the island and impressed by the beautiful property where the Via Terra program is delivered. 
A few weeks later, Sofia returns to Fog Island to assume her duties as a staff member. Life becomes different, more regulated. She accepts the restrictions but manages to sneak her laptop into her room. Oswald sees something in Sofia and before long he promotes her to his private secretary. Sofia gains a measure of authority in the group, which she exerts when needed. There´s something about Oswald that makes her trust and obey him unconditionally. An attractive force that she seems unable to control. 
Running parallel to the main story, the reader is introduced to a strangely unemotional teenager who grows up on the island, the bastard son of the count who owned the mansion that is now ViaTerra. The boy's mind is set on revenge, which he extracts when the count moves abroad. He stages his own death, seeks out the count in France, wins the man's trust and then burns down the estate with the whole family inside and, as the sole surviving heir, inherits the count's enormous fortune. 
502 pages
Crimetime Specsaver's debutant Prize, the jury's reasoning:
"Over 500 pages are completely devoured. Both the jury and the many readers who voted were unanimous – the book is impossible to put down. The language is unpretentious. The feeling of a documentary novel makes it stick out on the overcrowded crime novel shelves. The author writes about a secluded world in a way that is extremely believable and fascinating. A suspense novel about what makes people go through hell and high water because of the desire to belong. This is the first in a new fiction trilogy – we really look forward to the continuation."
Reviews: 
"The Scientology movement has become fiction through Mariette Lindstein´s thrilling novel: The Cult on Fog Island(Mörkersdottir publisher). The day-to-day routines of a cult are evidently in need of the novel formula, the non-fiction descriptions I´ve read are not nearly as compelling as this professionally constructed thriller. Compulsory nailbiting guaranteed."
Aftonbladet
"A page-turner, this falls most interesting novel."
Jonas Danielsson, the TV program Go'kväll (Good Evening)
"Suspenseful as the most riveting thriller."
Lotta Olsson/DN
"It is fascinating to get a glimpse at how one can get drawn into a sect. How good it all sounds in the beginning, but how the control of the group and fear within the members gradually increase. The cult-leader is portrayed in an enthralling way, and anyone who has been involved with a charismatic person, who constantly demands attention, will recognize Franz Oswald´s character. If you furthermore, voluntarily or involuntarily, have been the victim of someone who had an unhealthy obsession with dominating others, you will get shivers of recognition when the web of control is pulled tighter around the staff at Fog Island."
Mamma Bokström/Bonniers Book Club
"Mariette´s escape from the Scientologists sounds like a thriller. Now she has plowed down 25 years of cult-mentality into her debut novel, The Cult on Fog Island."
The Magazine Filter
"A book that is timely, interesting and more and more suspenseful the further into the story you get.
DAST magazine
"A well written and very suspenseful debut novel. Mariette Lindstein can definitely write and hopefully the next parts of the trilogy will be as well written as this one."
BTJ (library service)
"Suspense and fascination that turns into horror and panic. Fantastic intrigue. A perfect Xmas present and a beautiful design."
The blog: Pockethexorna, (The pocket witches).
"A very suspenseful book that makes me long for part 2."
Sandra Hjort, the blog: Alitio
"Capturing, really suspenseful and strong!!!"
Jennie's booklist
"A riveting book that I recommend to everyone. The story unfolds at breakneck speed all through and is almost impossible to put down."
Bymarken's manuscripts and media.
"This is the best book I´ve read in a very long time. Mariette Lindstein delivers an incredible story."
Marion Nyström, writer of the book "Frostbitten".
"An incredibly suspenseful book that´s most definitely worth reading."
Library service, West Frölunda.
"One of this falls best reading-experiences. I would not leave out one single page of this book. Incredibly well written!"
Radio P4, West.
"I don´t just like "Cult on Fog Island", I LOVE it!"
Niclas Christoffer, author of the book "Like Zlatan but better."
"Don´t miss this novel! It´s easy to read, you´re sucked into a whole new world. Frightening, some of the most terrifying stuff I´ve read, completely without any supernatural elements."
The Blog: The Boookshelf
"A thriller, filled with horror, that keeps you in a stranglehold until the whole book is finished."
Kim Kimselius, writer
"A nerve-wrecking story that really needs to be told. Mariette Lindstein has written an AWESOME book."
Joanna, the blog: The Book Circle
"This writer knows the stuff she´s writing about. An enthralling book that also gives insight into the "cult-phenomena".
Karin´s blog.
"I really want to read more about Sofia Bauman and look forward to the coming books in this series. I recommend this book to everyone. It gets the highest possible score from me."
Book-blog: The Book-pool
Quotes from Dutch bloggers and media:
 
 
"It feels authentic because of the high quality fiction. Scary from the very prologue."
Amsterdam newspaper. The Netherlands
 
"A mesmerizing thriller! The suspense just increases. The reader gets the heart in the throat. Exciting scene after exciting scene unfolds until you can't breath. It is so exciting you wonder if the film rights already have been sold."
Scriptgirl blog. The Netherlands
 
"What makes it so thrilling is not 'Who did it?' but "How far are they going to go?'
It totally captured me.
Blog. Stralend Scrijven . The Netherlands
 
"It gave me goosebumps. I read it obsessively. I could not put it down. I could not stop turning the pages!"
Read Junkie blog.
 
"Seamless writing, smooth dialogue, excellent structure of the story itself. A masterpiece! A very ominous book."
Hanneke Tinor-Certi Blog. The Netherlands
 
"It captured me from the prologue. The suspense just increases by the minute."
Thrillers and More. The Netherlands
 
"The tension just builds and builds and builds until the end."
Jaike vs de boeken, blog. The Netherlands
"Excellent characters. An impressive thriller with energizing and cinematic narrative that gives a terrifying view of life in a sect. Multiple cliffhangers, blood curling anxiety - a magnificent page turner"   Wendy Winning, Boekenbijlage book blog