The Cult That Resurrected (Sekten som återuppstod)
Mariette Lindstein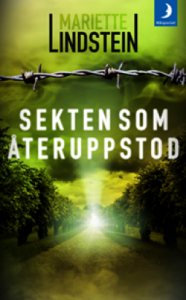 Rights sold
Sweden: Forum (previously Mörkesdottirs Förlag)
Poland: Bukowy Las
Netherlands: AW Bruna
UK: HarperCollins HQ
Canada: HarperCollins HQ
Australia: HarperCollins HQ
Ireland: HarperCollins HQ
Norway: Gyldendal
Finland: Atena
Germany: Blanvalet
Born into a cult. Raised by a tyrant
The notorious leader of ViaTerra, Franz Oswald, is in custody awaiting trial for the sexual abuse of a minor. Sofia Bauman meanwhile tries to readjust to a normal life after nearly two years at the cult's headquarters on Fog Island. It is hard to find a job with her background as a cult member and she is plagued with nightmares of being back at the island under Oswald's control.
Sofia´s life takes a turn for the better after Oswald is out of her life. She gets an apartment and a job at the university library in Lund. Her boyfriend, Benjamin Frisk, works in Gothenburg, but visits every weekend.
Franz Oswald's sexual affairs has led to children and with anger and certain fear Sofia starts blogging about via Terra when one of the girls begs Sofia to help her take revenge on Oswald for destroying her life. The media immediately pick up on this and the pregnant girl becomes a minor celebrity.
Simon Ahlgren, the former gardener at ViaTerra, has remained on Fog Island where he now works at a bed and breakfast in the village. He begins checking up on the mansion during his daily walks over the island. He spies on the group, which has come back to life, and tells Sofia all about their activities.
Oswald is sentenced for two years in prison but is  briefed on the outside world and can operate from the inside of the prison without problem, his staff has a tendency to fulfill his wishes. Soon Sofia gets a taste of the consequences of speaking out against the cult. Threats and harassment follows and the police seem to be incapable of tracing this to the cult. Benjamin gives Sofia a dog, Dilbert, in an effort to protect her.  But things just gets worse, so when an offer for a new job  in San Francisco is presented Sofia grabs the chance to get away and start a new life.
Pages: 403
Reviews
Very interesting about how easy it is to get duped. Mariette Lindstein makes the whole cult-problem universally applicable in a frightening way.
-Lotta Olsson/DN
"One of our most deeply penetrating authors psychologically."
- Magnus Utvik
Creepy reading about a phenomenon that penetrates today's society. Mariette Lindstein writes in a way that makes you see the story as a Hollywood movie inside your skull. At least as good as Cult on Fog island. The suspense increases slowly, the characters are real and I am already impatiently waiting for the third book.
-DAST magazine
If possible even better than the first book. More drive, impressive language with nice flow in the text that makes it worth reading without being empty. It is absolutely brilliant to be able to use your personal experiences this way.
- Jonas Danielsson/Magazine and TV-reviewer
Is it possible to leave a sect? And what happens to the people who do? Extremely suspenseful and the author does her best to explain and shed a light on the phenomenon of cults.
-Hallandsposten/Hallands Nyheter
An intelligent and skillfully spun intrigue about cult mentality and a thrilling continuation of the first book. The author shows that she knows her subject and once again creates a "must-read" thriller.
-BTJ
It´s damned suspenseful, despite the absence of Norwegian serial killers with mothers-complex or alcoholic police officers. Franz Oswald is a devilish, damned good, bad guy.
-The book-box
It is fatally suspenseful from start to the finish. I had to check that the front door was locked several times. It is extremely good, fascinating, touching, electrifying and horrifying. Brilliant!
Blog, Stories of the City
Do read this book! It is well written, and if possible even more suspenseful than the last book.
-Blogg on religion
It is fantastic! Written with such passion, such insight, suspenseful from the first page, fun to read amidst the sickening, sad story that the author tells so skillfully.
-Anna Lindman, tevereporter, journalist
Thrilling and fast paced, entertaining and easy to read. If you liked the first book you will absolutely like this one!
-The Book shelf (blogg):
I was sucked into this book from the start. It is suspenseful, creepy and definitely touching.
-Crazy about books: (blog)
The first book was suspenseful and this one becomes creepy in parts. What a page-turner! It´s impossible to put it down. Highly recommended!
-West Sweden blog/Kulturkollo
It is frightening to read this book and that´s what makes it so very important. It makes me cheer for the good forces, both in the book and real life. Those who continue to fight against darkness and evil.
-Blogg, Forward with the audio-book in your ear
What can i say? She did it again! Beautiful descriptions that make a language-enthusiast happy. And suspenseful! It gave me creepy sensations of the kind that are connected to cults. I highly recommend this book!
-Lotta Modin/journalist/writer
It gave me a clear and genuine understanding and respect for people who are in sects. I recommend my followers to read this book – I urge you!
-Blogg Fangadiensekt